HONOR Earbuds X5: The Best Budget Earbuds with Premium Features in Nepal in 2023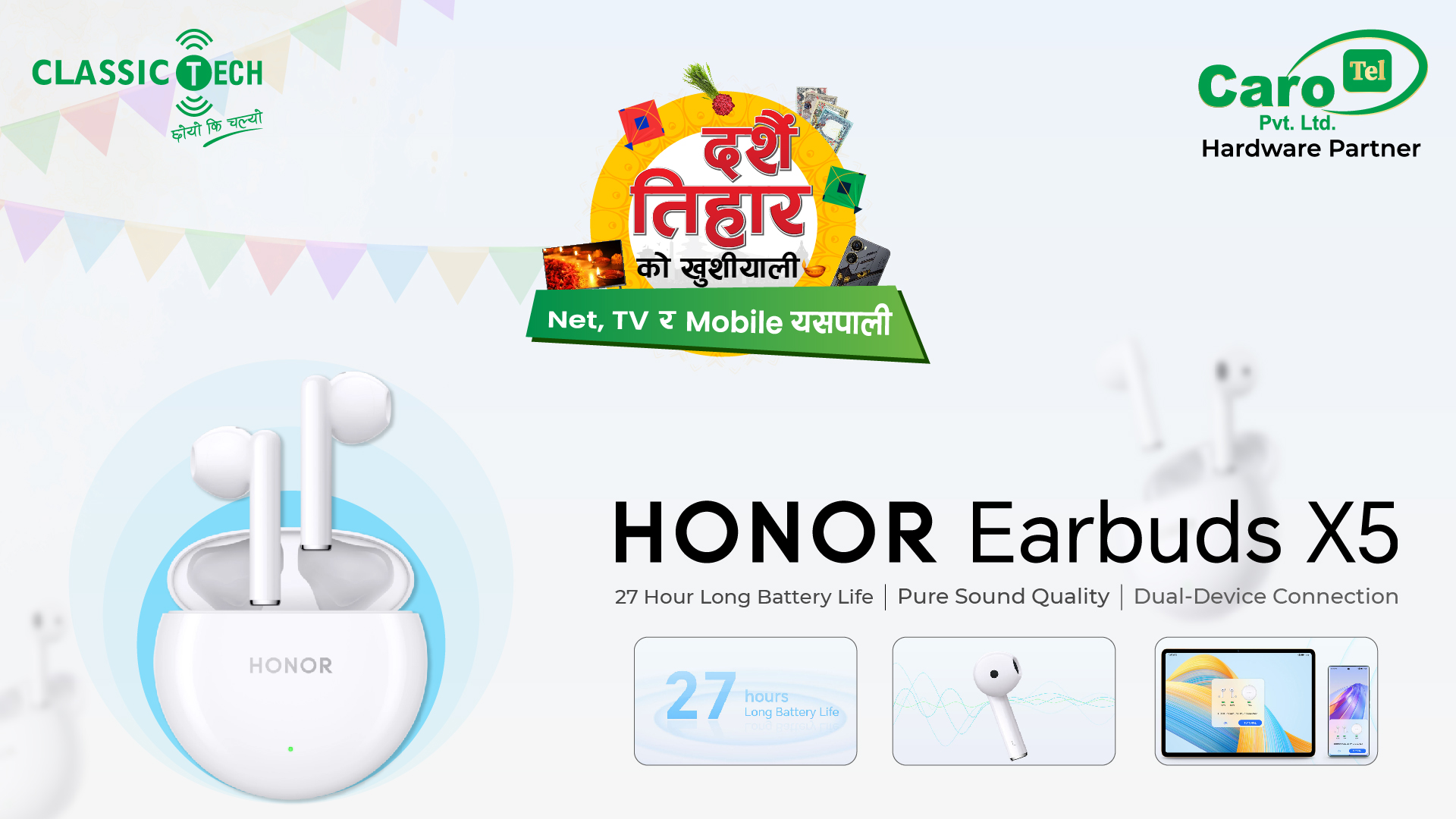 In the vibrant and dynamic landscape of the Nepali earbuds market, Classic Tech has unveiled an exclusive collaboration with HONOR to make this Dashain and Tihar season truly exceptional. As part of this exciting partnership, Classic Tech is offering the HONOR Earbuds X5 with the most premium features which is discussed below at an irresistible price. With their sleek design, advanced features, and impressive specifications, these earbuds are set to redefine your audio experience. In this blog, we will dive deep into what makes HONOR Earbuds X5 a must-have for audiophiles. In addition to this unbeatable offer, the earbuds come bundled with high-speed internet packages, making it a must-have for tech enthusiasts and audiophiles across Nepal.
Why choose these earbuds in the current scenario?
Finding the best wireless earbuds in Nepal that offer top-notch features and value for your money can be a daunting task. With so many options available, it can be difficult to know where to start. Here's a look at some of the compelling features that make the HONOR Earbuds X5 a great choice for earbuds in Nepal in 2023:
Design and Colors
The HONOR Earbuds X5 comes in a pristine white color, exuding elegance, and sophistication. Their lightweight design, weighing in at approximately 35.4 grams (without earbuds), ensures comfort during extended use. Slip them into your ears, and you will hardly notice they are there, allowing you to immerse yourself fully in your music or calls.
Intuitive Controls
Navigating your audio experience has never been easier. These earbuds feature a range of control options, including press control, double-tap, triple-tap, and long-press gestures. This level of control ensures that you can manage your music playback, calls, and more with just a touch.
Advanced Features
The HONOR Earbuds X5 comes packed with innovative features to enhance your daily life. Proximity discovery allows for seamless connection to your devices as soon as you open the charging case. Plus, dual-device connectivity ensures you can switch between two devices effortlessly.
Smart Sensors
Equipped with cap sensors and hall sensors, these earbuds can detect when you are wearing them and adjust their behavior accordingly. This wear detection feature helps conserve battery life and ensures a seamless listening experience.
Long time Battery Life
The HONOR Earbuds X5 boasts an impressive battery capacity. The earbuds themselves feature a 30mAh battery, while the charging case holds 410mAh. With AAC audio encoding, you can enjoy up to 5 hours of playtime on a single charge, and with the charging case, that extends to a whopping 27 hours of music playback. Say goodbye to battery anxiety.
Active Noise Cancellation (ANC)
The standout feature of the HONOR Earbuds X5 is their Active Noise Cancellation (ANC) technology. Block out the world and immerse yourself in your music with ANC. Whether you are on a noisy commute or simply want to focus on a busy environment, ANC allows you to enjoy your audio without distractions.
Convenient Charging
Charging the HONOR Earbuds X5 is a breeze with the USB-C port. Earbuds charge in just 1 hour, while the charging case takes 1.5 hours for a full charge. This means you can get back to enjoying your music or podcasts quickly.
Seamless Connectivity
These earbuds feature Bluetooth 5.2 technology, ensuring a stable and fast connection to your devices. They are backward compatible, meaning you can pair them with older devices too. The pop-up pairing feature makes connecting a breeze, and the simultaneous Bluetooth connection with dual devices adds convenience to your multitasking.
Immersive Audio Experience
With a 13mm moving-coil loudspeaker driver, the HONOR Earbuds X5 delivers exceptional audio quality. ANC further enhances your audio experience by blocking out unwanted noise, allowing you to appreciate the rich and immersive sound these earbuds provide.
What is in the Box?
When you unbox your HONOR Earbuds X5, you will find a pair of earbuds (left and right), a wireless charging case, a quick start guide, safety information, and a warranty card. Everything you need to start your audio journey right away.
Classic Tech Dashain and Tihar Offer
As part of the Dashain and Tihar celebrations, Classic Tech is making these incredible earbuds available at the special price of just Rs. 3,990, exclusively for the Nepali market. This offer represents a substantial discount on the market price of Rs. 6,000, making it an unbeatable deal.
Internet Package
To sweeten the deal even further, Classic Tech is offering the HONOR Earbuds X5 with bundled internet packages. You can choose between two high-speed options:
1. 200 Mbps – Priced at just Rs. 907 per month.

2. 300 Mbps – Priced at just Rs. 1,177 per month.
Main Offer Package 125 Mbps – Priced at just Rs. 8,400 for one year.
This bundle allows you to enjoy a seamless online experience alongside your premium audio setup.
Now, you can secure this fantastic combo deal through multiple convenient channels:
1. Visit any Classic Tech branch near you.

1. Explore our official Classic Tech website.

3. Simply call 9801004477 to place your order.
In a market flooded with options, the HONOR Earbuds X5 stands out as a versatile and feature-rich choice, now with the added benefit of Active Noise Cancellation (ANC). Their sleek design, intuitive controls, advanced features, impressive battery life, and ANC capability make them a valuable addition to your tech arsenal. Elevate your audio experience with the HONOR Earbuds X5 and enjoy music, calls, and more like never before, all while escaping the noise of the outside world.
▲