Nepal Earthquakes: How the Internet Can Help You Stay Safe Before, During, and After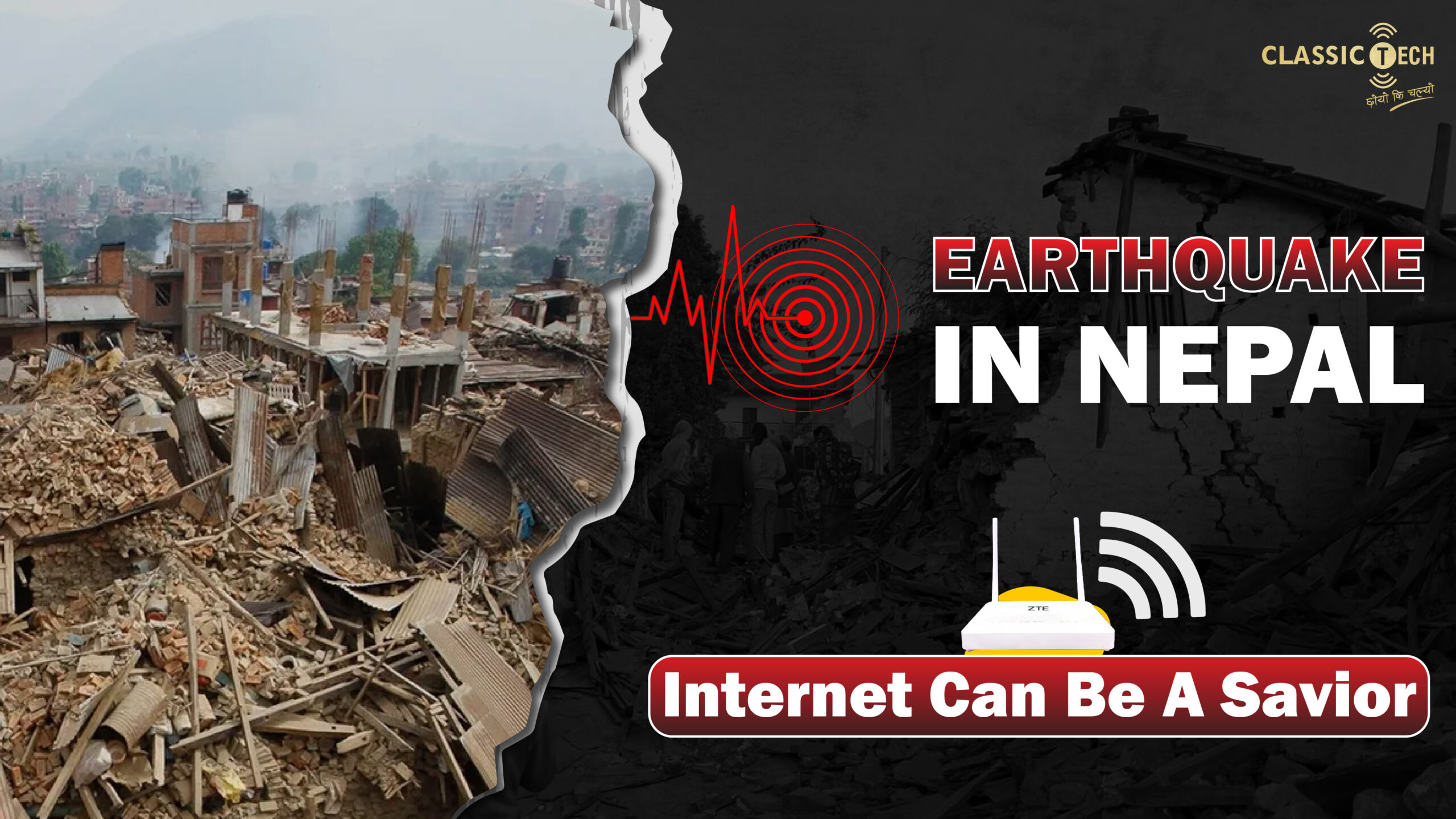 Nepal has recently experienced a series of earthquakes, including a Magnitude (ML): 4.5 earthquake at Makawanpur on November 22 (01:19 AM), Magnitude (ML): 4.5 earthquake at Bajhang On November 20 (11:37 PM), Magnitude (ML): 4.3 earthquake at Rukum-East On November 19(2:59 PM), Magnitude (ML): 4.0 earthquake at Bajura On November 07 (12:58 PM), and Magnitude (ML): 6.4 earthquake at Jajarkot On November 03 (11:47 PM), 2023. These earthquakes have caused some damage to buildings and infrastructure, there have been 105 deaths reported in Jajarkot, and many serious injuries as well. (Source: https://seismonepal.gov.np/earthquakes )
In the face of these ongoing seismic events, the internet emerges as a powerful tool for staying informed, prepared, and connected during earthquakes. By harnessing the internet's vast resources, individuals and communities can significantly enhance their safety and well-being before, during, and after an earthquake.
Before the Tremors Strike: Earthquake Preparedness Powered by the Internet
Even as the ground beneath Nepal trembles, the internet remains a steadfast ally in earthquake preparedness. Here is how the digital realm can empower you to safeguard yourself and your loved ones:
1. Gather Earthquake Risk Information in Your Area: Delve into the website of the National Earthquake Information Center (NEIC) or explore the online portals of local disaster management agencies. These valuable resources provide insights into earthquake history, potential hazards, and recommended safety measures in your area.
2. Craft an Earthquake Preparedness Plan: Utilize the internet to develop a comprehensive plan for your household, encompassing evacuation routes, emergency supplies, and effective communication strategies. Share this plan with all family members and conduct regular drills to ensure everyone is prepared.
3. Retrofit Your Home for Earthquake Resilience: The internet is a treasure trove of information on identifying earthquake vulnerabilities in your home and learning about retrofitting techniques to bolster earthquake resistance. By taking these proactive measures, you can significantly reduce the risk of structural damage during an earthquake.
During the Earthquake: Navigating Through Tremors with the Internet's Guidance
When the earth beneath your feet begins to shake, the internet can provide critical information and guidance to help you navigate through the tremors:
1. Receive Earthquake Alerts: Stay ahead of the curve by signing up for earthquake alerts from government agencies or reputable organizations. These timely notifications will keep you informed about earthquakes in your area, allowing you to take immediate action.
2. Access Real-time Updates: Embrace the power of news websites and social media platforms to stay abreast of real-time updates on the earthquake, including its location, magnitude, and potential aftershocks. This up-to-date information is crucial for making informed decisions during the crisis.
3. Locate Emergency Resources: When the need arises, the internet can help you swiftly locate nearby emergency shelters, hospitals, and other essential services. These resources can provide vital support and assistance during the aftermath of an earthquake.
After the Tremors Subside: Internet-driven Restoration and Support
Even as the dust settles, the internet remains an indispensable tool in the post-earthquake recovery phase:
1. Stay Informed About Relief Efforts: Leverage the internet to stay updated on ongoing relief efforts, including food distribution, medical assistance, and financial aid. This information can help you access the resources you need to rebuild your life after the earthquake.
2. Connect with Loved Ones: In the aftermath of an earthquake, the internet serves as a lifeline for connecting with friends and family members. Utilize social media platforms to check their safety, share information, and offer emotional support.
3. Seek Emotional Support: Online forums and support groups provide a safe space to seek emotional support and connect with others who have experienced the trauma of an earthquake. Sharing your experiences and connecting with others can aid in the healing process.
Embrace the Internet Power for Earthquake Safety with Classic Tech.
Role of the Classic Tech in Earthquake
Classic Tech, a renowned ISP company in Nepal, plays a crucial role in ensuring uninterrupted communication during seismic events. As a leading provider of internet and IPTV services, we are committed to delivering reliable connectivity, even in challenging circumstances like earthquakes with 24/7 support.
In the event of an earthquake, Classic Tech ensures continuous internet access, providing invaluable assistance to users seeking crucial information such as earthquake safety measures, alerts, resource allocation, connecting with loved ones, and accessing real-time updates. Our internet packages are tailored to meet diverse user requirements, offering budget-friendly prices.
Explore our range of internet packages on our official website to find the perfect fit for your needs. Our heartfelt condolences go out to the 105 people who lost their lives in the recent earthquake in Jajarkot. At Classic Tech, we remain dedicated to promoting safety, connectivity, and resilience in the face of seismic challenges.
In the face of Nepal's ongoing seismic activity, the internet stands as a beacon of hope, empowering individuals, and communities to enhance their earthquake safety. By staying informed, taking preventive measures, and utilizing the internet's vast resources, we can collectively minimize the impact of earthquakes and protect ourselves and our loved ones. Remember, preparedness is key, and the internet is our ally in achieving earthquake resilience.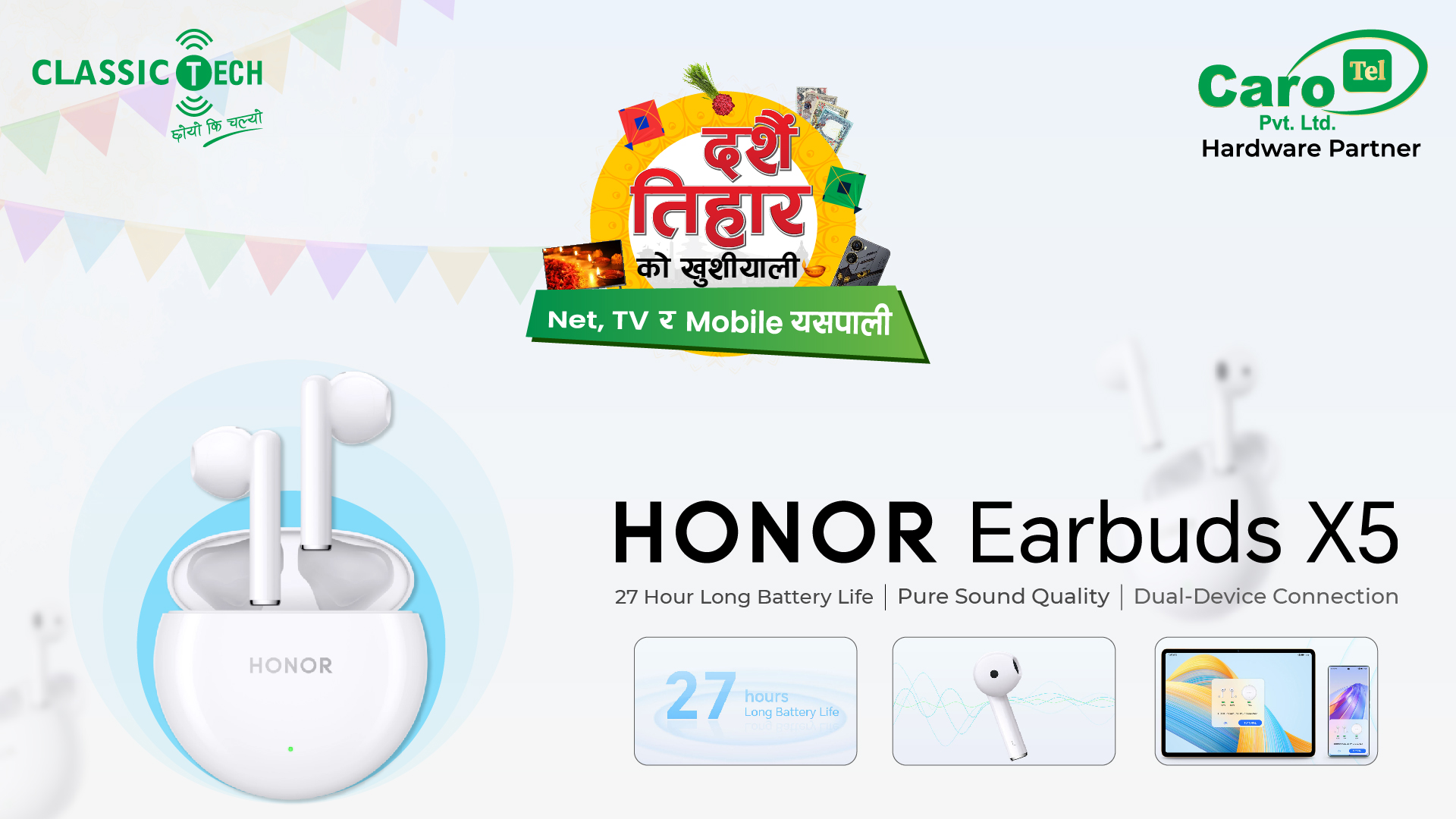 In the vibrant and dynamic landscape of the Nepali earbuds market, Classic Tech has unveiled an exclusive collaboration with HONOR to make this Dashain and Tihar season truly exceptional. As part of this exciting partnership, Classic Tech is offering the HONOR Earbuds X5 with the most premium features which is discussed below at an irresistible price. With their sleek design, advanced features, and impressive specifications, these earbuds are set to redefine your audio experience. In this blog, we will dive deep into what makes HONOR Earbuds X5 a must-have for audiophiles. In addition to this unbeatable offer, the earbuds come bundled with high-speed internet packages, making it a must-have for tech enthusiasts and audiophiles across Nepal.
Why choose these earbuds in the current scenario?
Finding the best wireless earbuds in Nepal that offer top-notch features and value for your money can be a daunting task. With so many options available, it can be difficult to know where to start. Here's a look at some of the compelling features that make the HONOR Earbuds X5 a great choice for earbuds in Nepal in 2023:
Design and Colors
The HONOR Earbuds X5 comes in a pristine white color, exuding elegance, and sophistication. Their lightweight design, weighing in at approximately 35.4 grams (without earbuds), ensures comfort during extended use. Slip them into your ears, and you will hardly notice they are there, allowing you to immerse yourself fully in your music or calls.
Intuitive Controls
Navigating your audio experience has never been easier. These earbuds feature a range of control options, including press control, double-tap, triple-tap, and long-press gestures. This level of control ensures that you can manage your music playback, calls, and more with just a touch.
Advanced Features
The HONOR Earbuds X5 comes packed with innovative features to enhance your daily life. Proximity discovery allows for seamless connection to your devices as soon as you open the charging case. Plus, dual-device connectivity ensures you can switch between two devices effortlessly.
Smart Sensors
Equipped with cap sensors and hall sensors, these earbuds can detect when you are wearing them and adjust their behavior accordingly. This wear detection feature helps conserve battery life and ensures a seamless listening experience.
Long time Battery Life
The HONOR Earbuds X5 boasts an impressive battery capacity. The earbuds themselves feature a 30mAh battery, while the charging case holds 410mAh. With AAC audio encoding, you can enjoy up to 5 hours of playtime on a single charge, and with the charging case, that extends to a whopping 27 hours of music playback. Say goodbye to battery anxiety.
Active Noise Cancellation (ANC)
The standout feature of the HONOR Earbuds X5 is their Active Noise Cancellation (ANC) technology. Block out the world and immerse yourself in your music with ANC. Whether you are on a noisy commute or simply want to focus on a busy environment, ANC allows you to enjoy your audio without distractions.
Convenient Charging
Charging the HONOR Earbuds X5 is a breeze with the USB-C port. Earbuds charge in just 1 hour, while the charging case takes 1.5 hours for a full charge. This means you can get back to enjoying your music or podcasts quickly.
Seamless Connectivity
These earbuds feature Bluetooth 5.2 technology, ensuring a stable and fast connection to your devices. They are backward compatible, meaning you can pair them with older devices too. The pop-up pairing feature makes connecting a breeze, and the simultaneous Bluetooth connection with dual devices adds convenience to your multitasking.
Immersive Audio Experience
With a 13mm moving-coil loudspeaker driver, the HONOR Earbuds X5 delivers exceptional audio quality. ANC further enhances your audio experience by blocking out unwanted noise, allowing you to appreciate the rich and immersive sound these earbuds provide.
What is in the Box?
When you unbox your HONOR Earbuds X5, you will find a pair of earbuds (left and right), a wireless charging case, a quick start guide, safety information, and a warranty card. Everything you need to start your audio journey right away.
Classic Tech Dashain and Tihar Offer
As part of the Dashain and Tihar celebrations, Classic Tech is making these incredible earbuds available at the special price of just Rs. 3,990, exclusively for the Nepali market. This offer represents a substantial discount on the market price of Rs. 6,000, making it an unbeatable deal.
Internet Package
To sweeten the deal even further, Classic Tech is offering the HONOR Earbuds X5 with bundled internet packages. You can choose between two high-speed options:
1. 200 Mbps – Priced at just Rs. 907 per month.

2. 300 Mbps – Priced at just Rs. 1,177 per month.
Main Offer Package 125 Mbps – Priced at just Rs. 8,400 for one year.
This bundle allows you to enjoy a seamless online experience alongside your premium audio setup.
Now, you can secure this fantastic combo deal through multiple convenient channels:
1. Visit any Classic Tech branch near you.

1. Explore our official Classic Tech website.

3. Simply call 9801004477 to place your order.
In a market flooded with options, the HONOR Earbuds X5 stands out as a versatile and feature-rich choice, now with the added benefit of Active Noise Cancellation (ANC). Their sleek design, intuitive controls, advanced features, impressive battery life, and ANC capability make them a valuable addition to your tech arsenal. Elevate your audio experience with the HONOR Earbuds X5 and enjoy music, calls, and more like never before, all while escaping the noise of the outside world.
Happy Dashain! Net, TV and router this time!!
Classic Tech, the country's leading and largest internet service provider company, has released its Dashain plan on the auspicious occasion of Vijaya Dashami, the great festival of Nepali people. New customers who want to join Classic Tech can get 200 and 300 Mbps internet at just Rs. 907* and 1177* respectively. Under the offer, you will get ZTE's 5GHz router and smart set-top box for free. For customers who want to connect a secondary router, the company will provide a secondary router at the cheapest price so far at just Rs.999*.
Classic Tech has partnered with Caro Tel Company for the sale and distribution of Videocon's smart TV sets. Like previous year, the users can get Videocon's 32″ and 43″ smart TV sets at a much lower adjusted price than the market price. The company said that Videocon 32″ Smart TV can be bought for Rs.19131 and 43″ Smart TV for Rs.28701.
The company has also brought special offers for its existing users. Customers can get 500 Mbps internet speed in the annual renewal of 250 Mbps, while there is a special arrangement where they can use the internet for 24 months after 12 months' recharge. The company has said that you will get ZTE's 5GHz router for free on annual recharge, while Videocon's 32″ and 43″ smart TV sets can also be charged at reasonable prices.
Classic Tech has become the first choice of internet users because it provides internet and quality services at reasonable prices. The company has been bringing such offers at different times and it is giving such different offers on the occasion of Dashain and Tihar.
You can contact 9801004477 for offers and other information.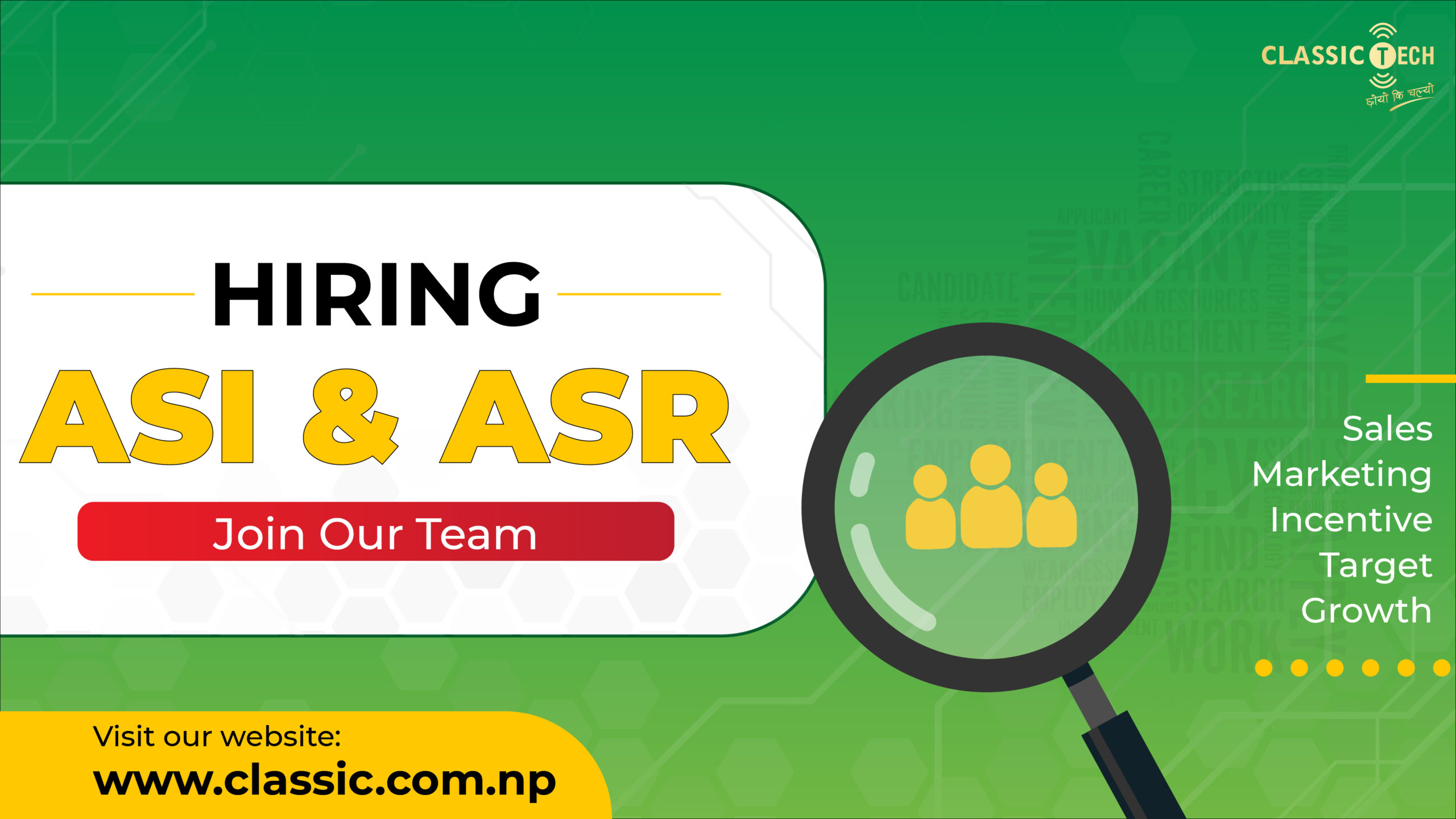 Are you ready to take your sales career to the next level? Classic Tech, a leading ISP in the country, is thrilled to announce exciting opportunities for dynamic individuals to join our sales team as Area Sales in charges (ASI) and Area Sales Representatives (ASR). Whether you're an experienced sales professional or an aspiring talent, we have the perfect role for you.
Why Choose Classic Tech?
At Classic Tech, we believe in nurturing talent and empowering our team to achieve remarkable success. Our commitment to innovation, coupled with a passion for growth, sets us apart in the market. As we continue to expand both within and beyond the Kathmandu Valley, we're looking for dedicated individuals to contribute to our journey.
Current Openings: ASI and ASR Positions
Area Sales in charge (ASI) – Crafting the Sales Landscape:
As an ASI, you'll play a pivotal role in shaping our sales programs and strategies. Your responsibilities will encompass:
1. Developing and executing sales programs tailored to maximize revenue from assigned accounts.
Conducting in-depth market research to identify new sales opportunities and devise effective sales initiatives.
Crafting and implementing innovative sales strategies while maintaining a deep understanding of our product offerings.
2. Collaborating with cross-functional teams to drive results and create a seamless customer experience.
Requirements for ASI:
1. Bachelor's degree or higher, along with a proven track record of at least 3 years in sales.
2. Self-motivation and a relentless drive for success in the sales arena.
Area Sales Representative (ASR) – Pioneering Sales Frontiers:
If you're looking to kick start your sales career, the ASR role offers an incredible learning opportunity. Your day-to-day activities will encompass:
1. Maintaining meticulous records of sales activities and progress.
2. Engaging in daily sales-oriented tasks to foster customer relationships and achieve targets.
Crafting compelling sales applications and executing them effectively.
3. Conducting proactive visits to 25-30 potential customers daily, showcasing our diverse range of products and services.
4. Identifying potential sales opportunities through thorough assessment of customer telecommunication services.
Requirements for ASR:
1. Minimum of a +2 qualification.
2. A hunger for growth in the sales industry, driven by self-motivation and determination.
Benefits That Matter:
Classic Tech believes in recognizing the dedication of our team. We offer an attractive salary package, coupled with benefits such as a corporate SIM card and social security fund. We prioritize your growth and development, offering a clear path to career advancement and continuous learning.
Ready to Join the Classic Tech Family?
If you're passionate about sales and driven to excel, we encourage you to seize this opportunity. Whether you're an accomplished professional or a budding talent, your enthusiasm and dedication are what we value most.
To apply, send your CV to career@classic.com.np.. For more information or inquiries, feel free to give us a call at 9801004477.
At Classic Tech, we're not just offering jobs; we're offering a platform for your sales prowess to shine. Join us today and embark on a journey of growth, innovation, and unparalleled success!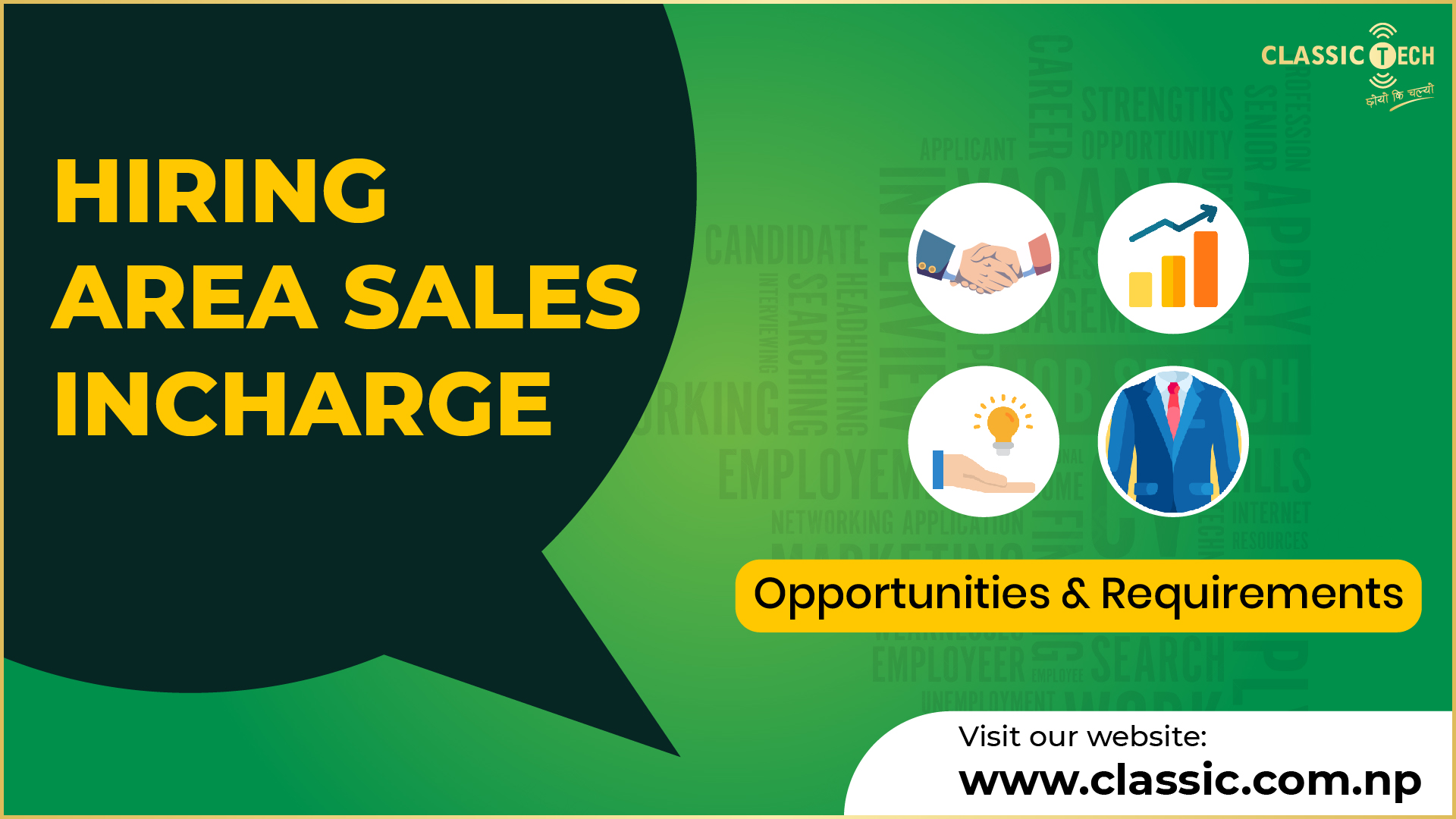 Are you a go-getter with a passion for sales and marketing, looking to make your mark in a dynamic and innovative company? If the answer is a resounding "yes," Classic Tech, Nepal's premier Internet Service Provider (ISP), is actively seeking talented individuals to join their team as Area Sales Incharge (ASI). With a national presence, this is an opportunity to propel your career to new heights and be part of a groundbreaking journey.
Classic Tech: Leading the Way in Nepal's Internet Landscape
Classic Tech needs no introduction in Nepal's rapidly evolving internet landscape. As a market leader in the ISP industry, Classic Tech has been connecting people from all walks of life across the country for years. Driven by a vision to revolutionize communication and internet services, we strive to make these services accessible to every Nepali household. Our commitment to excellence and unwavering focus on customer satisfaction has earned us a stellar reputation in the market.
The Quest for an Area Sales Incharge (ASI)
To realize our ambitious goals and consistently deliver exceptional services, we are on the lookout for highly qualified candidates to take on the crucial role of Area Sales Incharge (ASI). This position is instrumental in driving sales and spearheading expansion efforts in key locations like Butwal, Bhairahawa, Dhalkebar, Kalaiya, Simrangadh, Biratnagar, Itahari, Dharan, and Lalitpur Chapagaun. If you reside in or around these areas and possess a fervor for sales, this opportunity is tailor-made for you!
Requirements for the Role
At Classic Tech, we place a premium on competence and dedication. To be considered for the ASI position, you should meet the following prerequisites:
1. Educational Background: A minimum of a Bachelor's degree is required. We firmly believe that education lays the groundwork for personal and professional growth.
2. Sales and Marketing Experience: The ideal candidate should boast a proven track record of 3-4 years in sales and marketing or a closely related field. Your experience will be instrumental in driving sales and expanding our esteemed customer base.
3. Willingness to Learn: In the ever-evolving tech industry, we treasure individuals who embrace continuous learning and stay abreast of the latest trends. As an ASI, you will have the opportunity to enhance your skills and knowledge continually.
4. Creativity and Sales Ideas: At Classic Tech, we welcome fresh perspectives and innovative ideas. Your creative prowess will play a pivotal role in crafting effective and compelling sales strategies.
5. Motivation and Determination: As a go-getter with a results-oriented attitude, you'll be a perfect fit for the role of ASI. Your determination will be instrumental in achieving sales targets and driving business growth.
The Classic Tech Advantage
Joining the Classic Tech team opens doors to a myriad of exciting opportunities:
1. Career Growth: Classic Tech is dedicated to nurturing talent and providing ample opportunities for career advancement within the company. Your success as an ASI can pave the way to prestigious positions like Area Sales Manager and Sales Manager.
2. Competitive Salary and Benefits: We believe in recognizing and rewarding our employees for their exceptional contributions. A competitive salary and comprehensive benefits package await you.
3. Thriving Work Environment: Classic Tech fosters a dynamic and inclusive work culture where employees are encouraged to thrive, collaborate, and contribute to the company's growth.
4. Shaping the Future: As part of Nepal's leading ISP, you will actively contribute to the transformation of communication and internet accessibility in the country.
Apply Now at career@classic.com.np.
If you meet the above requirements and are eager to explore new horizons in the internet industry, we want to hear from you! Submit your updated resume along with a well-crafted cover letter detailing your relevant experience, sales ideas, and the motivation driving you to join Classic Tech. You can apply by sending an email to career@classic.com.np.
At Classic Tech, we firmly believe that our employees are the driving force behind our success. If you are ready to unlock your potential and embark on a rewarding journey with Nepal's premier ISP, seize this opportunity to become our next Area Sales Incharge (ASI). We are eagerly waiting to welcome you aboard and witness your extraordinary growth with us!
Exploring the Causes and Solutions
In today's digital age, staying connected through our smartphones has become essential. However, it can be frustrating when we encounter sluggish internet speeds on our phones. If you've ever wondered why the internet is slow on your phone, you're not alone. In this article, we will delve into the various factors that can contribute to this issue and explore some effective solutions. So, let's dive in and uncover the reasons behind slow internet connections on mobile devices.
Network Congestion:
When many people are using the same network, it can slow down the internet on your phone. Try connecting to a less crowded network or using it during off-peak hours.
Weak Signal Strength:
If your phone is far from the Wi-Fi router or cellular tower, the signal weakens, causing slower internet. Move closer to the signal source or use signal boosters for better connectivity.
Outdated Software and Apps:
Update your phone's software and apps regularly to fix bugs and improve performance, resulting in faster internet speeds.
Background Processes and Apps:
Close unused apps and disable unnecessary background processes to free up resources and allocate more bandwidth to internet-related tasks.
Limited Data Plan or Throttling:
If you have a limited data plan or have exceeded your allowance, your service provider may intentionally reduce your internet speed. Consider upgrading your plan or contacting your provider for options.
DNS Issues:
Slow DNS resolution can affect your browsing speed. Change your DNS settings to faster and more reliable alternatives like Google DNS or Cloudflare DNS.
Viruses and Malware:
Malicious software can slow down your phone and affect internet speeds. Install a reputable mobile security app and regularly scan your device for potential threats.
Hardware Limitations:
Older or low-end phones may not support the latest network technologies, leading to slower internet speeds. Consider upgrading to a newer phone with better hardware capabilities.
App-Specific Issues:
Some apps may have inherent issues that cause slow internet speeds. Try troubleshooting by clearing app cache, reinstalling the app, or checking for updates.
Network Provider Limitations:
Different network providers offer varying internet speeds. Research providers in your area to find one that offers faster and more reliable connections.
In conclusion, slow internet on your phone can be caused by network congestion, weak signal strength, outdated software and apps, background processes, limited data plans or throttling, DNS issues, viruses and malware, hardware limitations, and app-specific issues. By addressing these factors, you can improve your internet speed and have a better browsing experience.
FAQs:
Which wifi is best in Nepal?
How to get low ping in game?
How to fast your internet?
Affordable Internet in Nepal
How to Choose the Right ISP Company>
Choosing an internet service provider (ISP) can be a daunting task, especially with so many options available. But with a little research, you can find the right ISP for your needs and budget.
Here are some factors to consider when choosing an ISP:
Speed: How fast do you need your internet connection to be? If you're a gamer or a heavy internet user, you'll need a faster connection.
Availability: What ISPs are available in your area? Not all ISPs are available in all areas.
Price: How much are you willing to spend on internet service? There are a variety of pricing plans available, so you should be able to find one that fits your budget.
Reliability: How reliable is the ISP? You don't want to experience frequent outages or slowdowns.
Customer service: How good is the ISP's customer service? If you have a problem, you want to be able to get help quickly and easily.
TOP ISPs in Nepal: Classic Tech, Worldlink, Subisu, Vianet, CG Net, Wifi Nepal, Dishhome fibernet, Nepal Telecom, Oasis Broadlink, Techmind, Websurfer.
Once you've considered these factors, you can start comparing different ISPs. Be sure to read reviews and compare plans before making a decision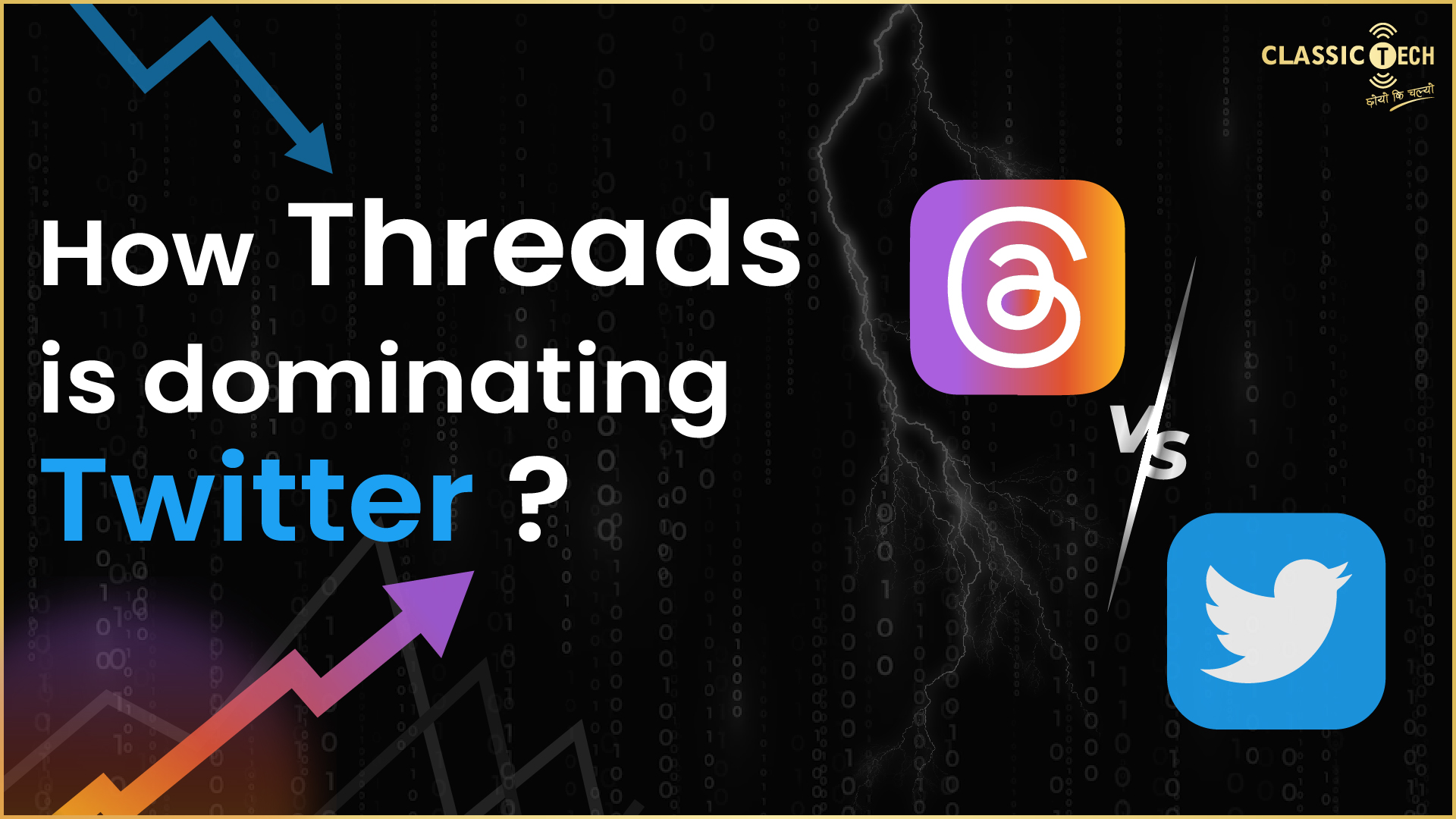 Instagram Threads Meaning
Meta, the parent company of Instagram, has set its sights on dominating the microblogging arena with its latest offering, Threads. This text-based social networking app aims to compete head-on with Twitter by leveraging its existing user base and integrating key features It also creates an Amazing record in the app history: the app has managed to accumulate a staggering 10 million new users, as confirmed by Mark Zuckerberg, co-founder, and CEO of Meta. In this article, we explore how Threads has the potential to disrupt the Twitter landscape and establish dominance in the market.
Leveraging Instagram's User Base:
With Threads, Meta gains a significant advantage by tapping into Instagram's extensive user base. The seamless integration allows Instagram users to transition effortlessly to Threads, bringing their followers and network along with them. This jump-start in user adoption gives Threads an immediate edge over Twitter, as it can leverage the existing connections and engagement of Instagram's vast community.
Targeting High-Profile Users:
Threads strategically targets high-profile celebrities, influencers, artists, and content creators, aiming to draw them away from Twitter. By offering a platform tailored to their needs, Threads seeks to entice these influential individuals to migrate and establish a new online presence. The allure of reaching a broader audience within Threads' ecosystem could prompt key figures to shift their focus away from Twitter, ultimately impacting the dynamics of the social media landscape.
ActivityPub Integration for Expansion:
Meta's planned integration of ActivityPub, the social networking protocol used by Mastodon and other federated apps, offers an opportunity for Threads to broaden its reach. This integration allows for decentralized networking and potential interoperability with Mastodon's 1.7 million active users. By connecting with this established user base, Threads has the potential to become a major player in the decentralized social web, further challenging Twitter's dominance.
Filling the Gap Left by Twitter Exodus:
The emergence of alternative platforms, such as Bluesky and Mastodon, highlights a growing dissatisfaction with Twitter among users seeking better privacy and alternative moderation policies. Threads aims to capitalize on this sentiment by positioning itself as a viable alternative. Meta's reputation and resources, combined with Threads' tailored features and integration with Instagram, provide a compelling proposition for users looking for a change from Twitter's status quo.
Meta's Ambition and Resources:
Meta, as a tech giant, possesses substantial resources and influence to drive the success of Threads. With its expertise in social media and vast user base across platforms like Facebook, Instagram, and WhatsApp, Meta can leverage its existing infrastructure and cross-platform integration capabilities to propel Threads to the forefront. This strategic advantage puts Meta in a position of strength as it seeks to dominate the Twitter space with Threads.
How Classic Tech as an ISP company will help you with a better experience?
By choosing Classic Tech as your ISP, you can seamlessly connect with Threads and enhance your overall experience on the platform. Classic Tech's reliable and stable internet connection ensures that you can access Threads without interruptions or downtime, allowing you to stay connected and engage with your followers in real-time. With faster internet speeds, you can browse, post, and interact on Threads with ease, enjoying a smooth and responsive user experience.
Classic Tech is Also available on both platforms:
And Others Social Media Handles:
Follow Classic Tech on:
Frequently Searched Term Right Now:
– instagram threads meaning
– instagram threads 2022
– what is a thread instagram
– thread instagram
– instagram threads
– instagram threads ios
– thread arts nepal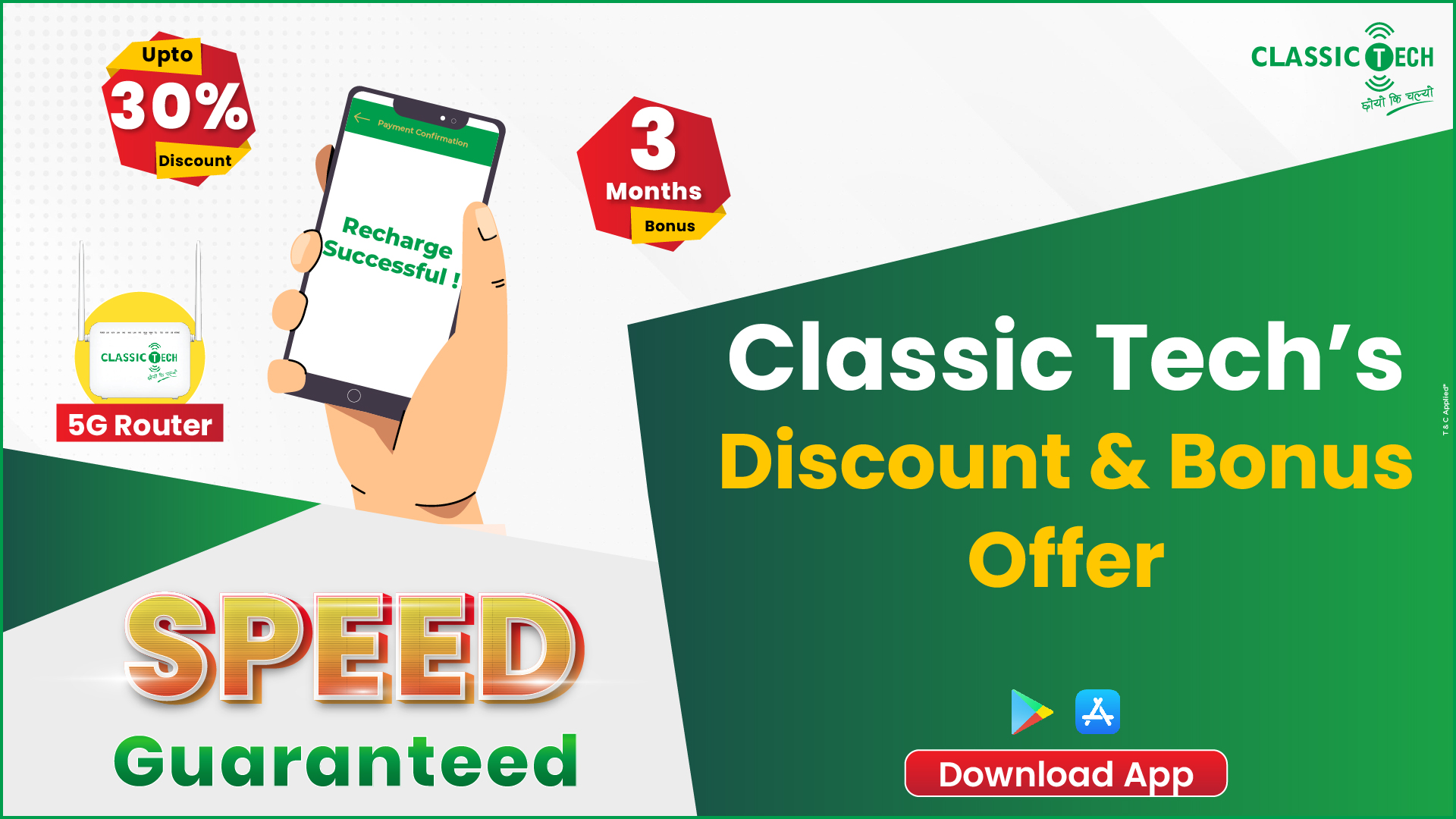 Classic Tech provides a range of affordable internet packages that are specifically designed to tackle the challenges posed by ongoing inflation. We provide you with 3months bonus , up to 30%discount and dual band ONU for better and fast internet experience. With a wide reach across 74 districts through over 100 outlets, Classic Tech aims to provide accessible and cost-effective internet solutions to customers across the country.
One of the standout offerings from Classic Tech is the Tachyon-325 recharge package. With this package, customers receive a remarkable three-month bonus, along with a generous 20% discount and an additional 5GHz ONU for a one-year recharge. This offer ensures that customers can enjoy uninterrupted internet access while saving money in the long run.
For those with higher data requirements, the Tachyon-400 recharge package is an excellent choice. By opting for this package, customers receive four months of internet Bonus, a significant 25% discount, and an extra 5GHz ONU for a one-year recharge. This plan caters to heavy internet users, providing them with ample data at an affordable price.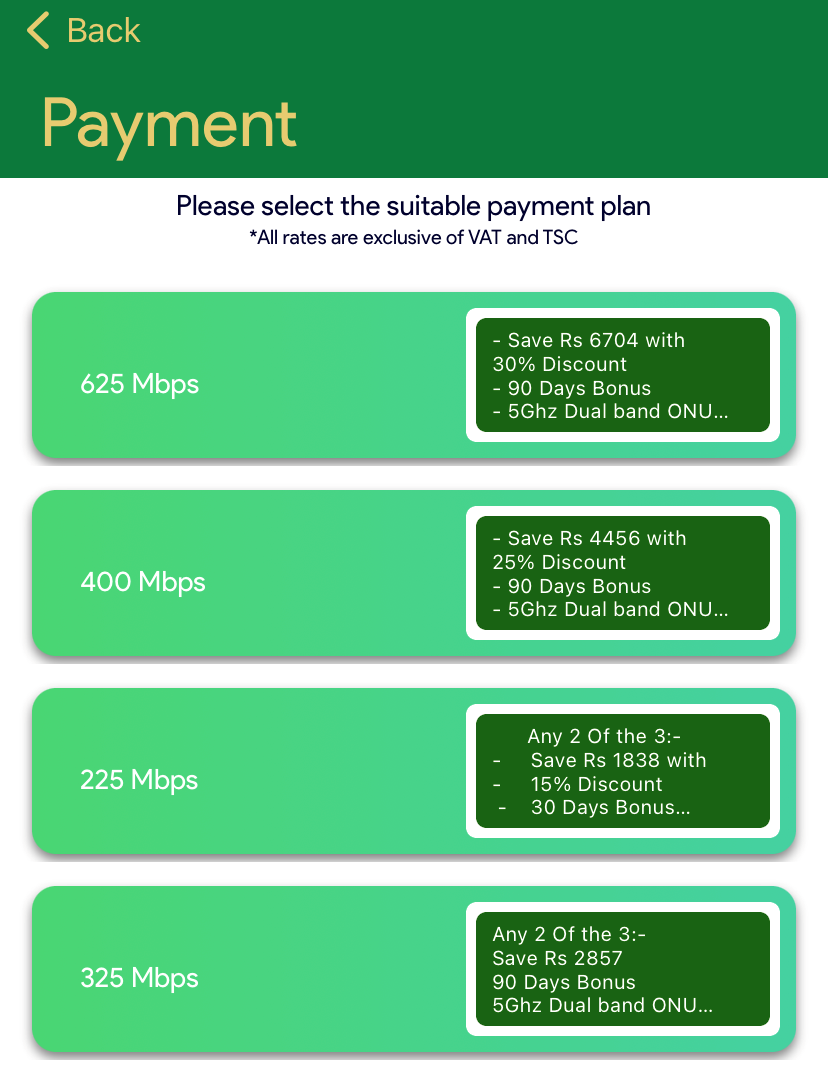 Tachyon-625 recharge package is an excellent choice. By opting for this package, customers receive three months of internet Bonus, a significant 30% discount, and an extra 5GHz ONU for a one-year recharge. This plan caters to heavy internet users, providing them with ample data at an affordable price.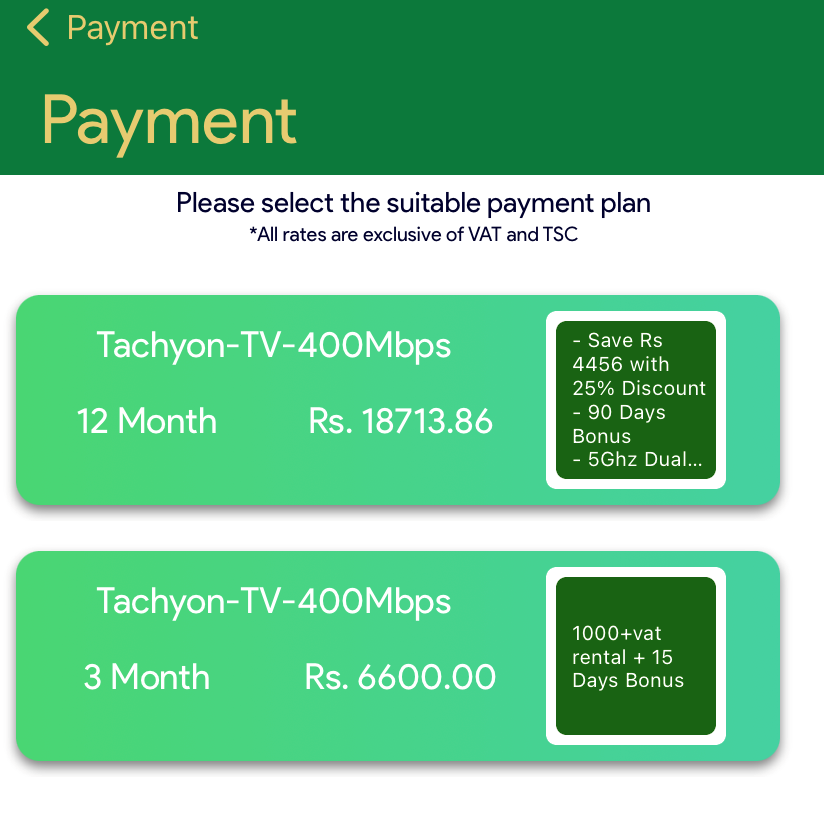 To further enhance the internet experience, Classic Tech emphasizes the need for dual-band Optical Network Units (ONUs). Dual-band ONUs provides better network performance and stability by operating on two separate frequency bands. This technology allows for simultaneous transmission of data on different bands, resulting in improved internet speeds and reduced latency. By adopting dual-band ONUs, customers can optimize their internet connectivity and enjoy a seamless online experience.
Classic Tech understands that slow internet speeds can be frustrating and hinder productivity. Often, this can be attributed to the limitations of single-band routers. Single-band routers operate on a single frequency band, which can cause congestion and slower data transfer rates. By upgrading to dual-band routers, customers can overcome this issue and enjoy faster internet speeds, especially when multiple devices are connected simultaneously.
In addition to providing reliable and high-speed internet, Classic Tech stands out for its commitment to offering low-price packages and plans. With the goal of making internet access accessible to all, Classic Tech ensures that their pricing remains competitive, even in the face of inflation. By providing affordable options, Classic Tech aims to bridge the digital divide and empower individuals and businesses with the tools they need to thrive in the digital age.
In addition to the convenience of their extensive network of outlets, Classic Tech offers customers the flexibility to recharge their internet packages through their mobile application. With the Classic Tech mobile app, customers can easily manage their internet subscriptions, check their data usage, and recharge their packages with just a few taps on their smart phones.
The mobile application provides a user-friendly interface that allows customers to navigate through different package options and select the one that suits their requirements. By offering a seamless and hassle-free recharge process, Classic Tech ensures that customers can easily stay connected without any interruptions.
Furthermore, the Classic Tech mobile app provides real-time updates on data consumption, enabling users to monitor their usage and make informed decisions about their internet usage patterns. This feature helps customers stay within their data limits and avoid unexpected overage charges.
With the convenience of recharging through the mobile application, customers can enjoy the flexibility of managing their internet packages anytime and anywhere. Whether they are at home, at work, or on the go, they can effortlessly recharge their packages and continue to stay connected with their online activities.
Classic Tech's commitment to providing a user-friendly mobile application reflects their dedication to enhancing the customer experience and ensuring that accessing affordable internet services is as convenient as possible. By embracing technology and offering a digital platform for recharges, Classic Tech demonstrates their commitment to staying at the forefront of the industry and meeting the evolving needs of their customers.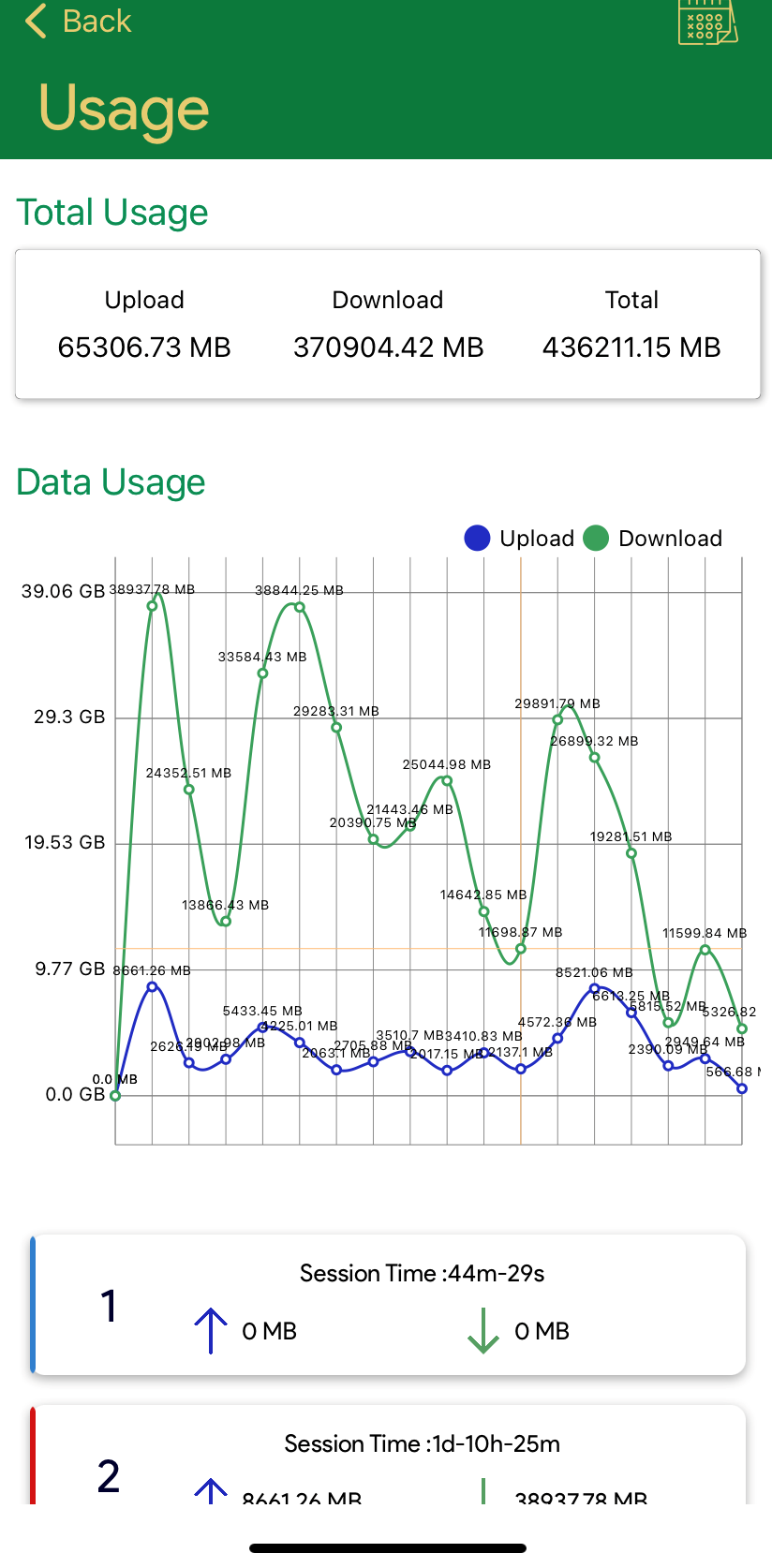 The Classic Tech mobile application offers customers the convenience of recharging their internet packages with ease. Through the user-friendly interface of the app, customers can select and recharge their desired packages, monitor their data usage, and stay connected to the online world. By embracing digital solutions, Classic Tech continues to provide accessible and affordable internet services while adapting to the changing needs of their customers.
In conclusion, Classic Tech's affordable internet packages are designed to tackle ongoing inflation while reaching customers across 74 districts through their extensive network of over 100 outlets. With offerings such as the Tachyon-325 and Tachyon-400 , Tachyon-625 recharge packages. By promoting the use of dual-band ONUs and addressing the limitations of single-band routers, Classic Tech ensures that customers can experience fast and reliable internet connectivity. With their low-price packages and plans, Classic Tech aims to make internet access affordable for everyone, fostering digital inclusion and empowering individuals and businesses in the digital era.
Answering FAQ:
1. Why is my internet slow?
There can be several reasons why your internet connection may be slow. Here are some common factors that can contribute to slow internet speeds:
a) Network Congestion: During peak hours when many users are online, network congestion can occur, leading to slower speeds. This is more common in densely populated areas or shared network environments.
b) Distance from the Network Source: The farther you are from the network source or the internet service provider's infrastructure, the weaker your signal strength may be, resulting in slower speeds.
c) Outdated Equipment: Using outdated or incompatible modems, routers, or network adapters can limit your internet speeds. Ensure that your equipment supports the speed capabilities provided by your internet service. Install 5GHz dual band ONU to solve this issue.
d) Wi-Fi Interference: Interference from other electronic devices, neighboring Wi-Fi networks, or physical obstructions can degrade your Wi-Fi signal, leading to slower speeds.
e) Malware or Viruses: Malicious software or viruses on your devices can consume your internet bandwidth and slow down your connection. Regularly scan your devices for malware and keep your antivirus software up to date.
f) Plan Limitations: Check if you have reached your monthly data cap or if you are subscribed to a plan with slower speeds during peak usage times. Upgrading your plan may be necessary for faster speeds.
If you are experiencing consistently slow internet speeds, it is advisable to contact your internet service provider (ISP) for assistance. They can help diagnose and address any issues specific to your connection.
2. Why use Dual Band ONU?
Using a Dual Band Optical Network Unit (ONU) offers several advantages for your internet connection:
a) Improved Network Performance: A Dual Band ONU operates on two separate frequency bands, typically 2.4 GHz and 5 GHz. This allows for better utilization of available bandwidth and reduced interference, resulting in improved network performance and faster internet speeds.
b) Simultaneous Connections: Dual Band ONUs support simultaneous connections on both the 2.4 GHz and 5 GHz bands. This means you can connect more devices to your network without experiencing congestion or a significant drop in speed.
i) How do I get 5GHz dual band ONU?
By recharging annual Tachyon Package
3. Why is a secondary router used?
A secondary router, also known as a Wi-Fi extender or a range extender, is used to extend the coverage of your Wi-Fi network. Here are a few reasons why a secondary router may be used:
a) Expanded Coverage: In larger homes or offices, a single router may not be sufficient to provide Wi-Fi coverage in all areas. A secondary router can be strategically placed to extend the range of your Wi-Fi signal, ensuring that devices in distant rooms or floors can connect to the network.
b) Overcoming Physical Obstacles: Thick walls, multiple floors, or other physical obstructions can weaken the Wi-Fi signal. A secondary router placed strategically can help overcome these obstacles and provide a stronger signal to areas that would otherwise have weak or no connectivity.
c) Handling High Network Traffic: In environments with many devices connected to the Wi-Fi network, a single router may struggle to handle the high network traffic. Adding a secondary router helps distribute the load and improve network performance, ensuring a smoother and more stable connection for all devices.
d) Creating Separate Networks: Some users may prefer to have separate networks for different purposes, such as separating personal and work devices or setting up a guest network. A secondary router can be used to create these separate networks, allowing for better network management and enhanced security.
It's important to note that when setting up a secondary router, it should be properly configured to work in conjunction with the primary router to avoid conflicts or interference.
4. How much does it cost to install a Dual Band ONU?
The estimated cost for installing a Dual Band ONU is Rs. 3850.
5. How long does it take to process?
The processing time for installing a Dual Band ONU or any internet service can vary based on several factors, including availability of equipment, and technical requirements. However, as provided in the answer, the estimated processing time for installing a Dual Band ONU is 5-7 working days.
During this time, the service provider will typically coordinate with you to schedule the installation appointment and ensure that all necessary arrangements are made. It is advisable to contact your Branch office directly to get precise information about the processing time for installing a Dual Band ONU in your specific location.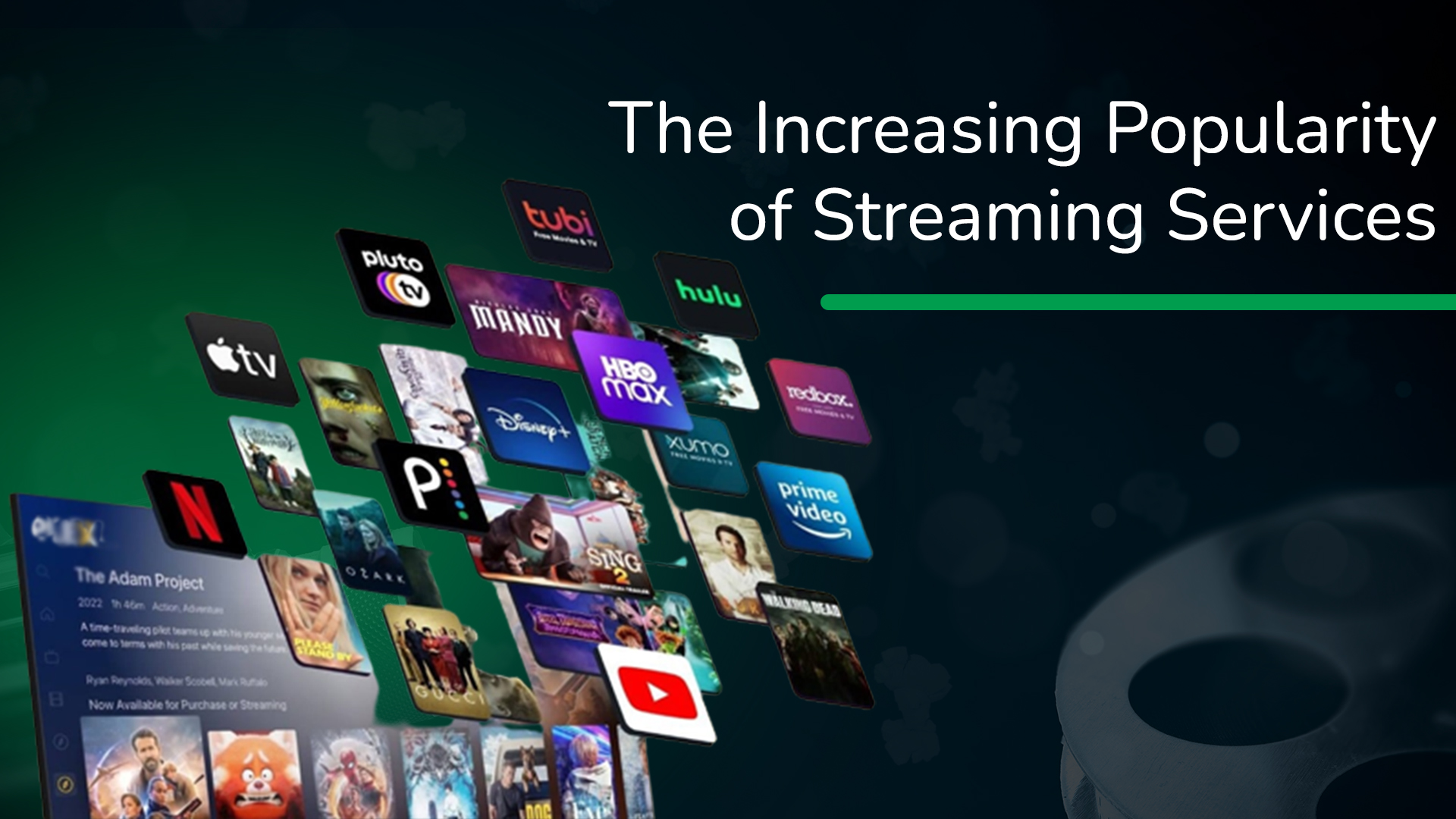 Streaming services have become increasingly popular in recent years, with millions of people subscribing to various platforms such as Netflix, Amazon Prime Video, Hulu, and Disney+. These services offer a variety of movies and TV shows that can be watched on-demand, allowing users to enjoy their favorite content whenever they want. In this article, we will explore the reasons behind the increasing popularity of streaming services, the impact they have on the entertainment industry, and what the future holds for this trend.
The Convenience of Streaming Services
One of the primary reasons for the popularity of streaming services is their convenience. Unlike traditional cable TV, which requires viewers to adhere to a predetermined schedule, streaming services allow users to watch whatever they want, whenever they want. This flexibility has made streaming services a popular choice among those who have busy schedules or who prefer to watch TV shows and movies on their own time.
The Cost of Streaming Services
Another reason why streaming services have become so popular is their affordability. Many of these services offer low monthly subscription fees, making them accessible to a broad range of consumers. Moreover, unlike traditional cable TV, which often requires users to pay for channels they do not want, streaming services allow users to choose the content they want to watch and pay only for what they use.
The Quality of Streaming Services
Another factor that has contributed to the popularity of streaming services is the quality of the content. Many of these services produce their own original content, which is often of high quality and on par with content produced by traditional television networks and movie studios. As a result, streaming services have gained a reputation for producing some of the best TV shows and movies available.
The Impact of Streaming Services on the Entertainment Industry
The rise of streaming services has had a significant impact on the entertainment industry. For one, it has led to the creation of new business models and revenue streams. Moreover, it has forced traditional television networks and movie studios to compete with these services by producing high-quality content and creating their own streaming services.
The Future of Streaming Services
Given the popularity of streaming services, it is likely that this trend will continue to grow in the future. One of the trends we are already seeing is the proliferation of new streaming services, with more and more companies entering the market. This competition is likely to lead to more affordable prices and better-quality content for users.
Another trend we are seeing is the expansion of streaming services into new markets. With the rise of mobile devices, streaming services are becoming increasingly popular in emerging markets, where traditional cable TV is often prohibitively expensive. As a result, we can expect to see more growth in these markets in the coming years.
Classic Tech offers hosted CDN servers to businesses or end consumers, including popular streaming services like Netflix, Akamai, TikTok, Facebook, YouTube, and Viber. Having a CDN server has many advantages and it's important for users to consider these benefits when choosing an internet service provider.
CDN servers can greatly improve the speed and reliability of streaming services. By storing and delivering content from servers located closer to the user, latency is reduced, and content can be delivered faster, resulting in smoother and more seamless streaming experiences.
To order or book Classic Tech Internet, readers can call 9801004477 and experience the benefits of a high-quality internet service provider. You can also fill out the inquiry form.
Conclusion
The increasing popularity of streaming services is a trend that is here to stay. From their convenience and affordability to the quality of the content and impact on the entertainment industry, there are many reasons why people are turning to these services. As the market continues to grow and evolve, we can expect to see even more competition and innovation, leading to better experiences for users.
FAQs
What are the most popular streaming services?
Some of the most popular streaming services are Netflix, Amazon Prime Video, Hulu, and Disney+.
How do streaming services differ from traditional cable TV?
Streaming services offer on-demand content that can be watched whenever the user wants, while traditional cable TV requires viewers to adhere to a predetermined schedule.
How much do streaming services cost?
The cost of streaming services varies depending on the platform and the subscription plan. However, many services offer affordable monthly fees.
Can I watch live TV on streaming services?
Some streaming services, such as Hulu + Live TV and YouTube TV, offer live TV options.
Online privacy is a crucial aspect of our digital lives. With so much of our personal information available online, it's important to take steps to protect ourselves from potential threats. Here are five ways you can safeguard your online privacy:
• Use a Password Manager: One of the best ways to protect your online privacy is to use a password manager. This type of software allows you to generate and store complex, unique passwords for all of your accounts in a secure, encrypted manner. Not only does this make it much more difficult for hackers to gain access to your accounts, but it also eliminates the need to remember multiple passwords. Additionally, some password managers can also alert you if your email and password have been compromised in a data breach.
• Enable Two-Factor Authentication: Two-factor authentication (2FA) adds an extra layer of security to your accounts by requiring a second form of verification, such as a code sent to your phone, in addition to your password. This makes it much harder for someone to gain access to your accounts, even if they have your password.
• Be Cautious When Clicking on Links or Downloading Attachments: Phishing scams and malware can often be spread through links and attachments in emails and on websites. Always be careful when clicking on links or downloading attachments, and never provide personal information unless you're sure it's legitimate.
• Be Cautious while using public WiFi: Yes, avoiding public Wi-Fi is a good way to protect yourself online. Public Wi-Fi networks, such as those found in coffee shops or airports, are often unsecured, meaning that anyone on the same network can potentially access your internet traffic and steal your personal information, such as login credentials or credit card numbers. Use a VPN. A virtual private network (VPN) encrypts your internet connection, making it much more difficult for someone to spy on your online activity. This can be especially important when using public Wi-Fi or connecting to a network you don't trust.
• Keep Your Software and Devices Up to Date: Software and device manufacturers often release updates that address security vulnerabilities. By keeping your software and devices up to date, you can ensure that you're protected against the latest threats.
• Addition:
Use a Trusted Internet Service Provider (ISP): Another important step in protecting your online privacy is to use a trusted internet service provider (ISP). This means selecting an ISP that has a strong reputation for protecting customer data and adhering to strict privacy policies. A trusted ISP will encrypt your internet connection, protect your personal information, and not sell your data to third parties. Additionally, they will have strict security protocols in place to prevent data breaches and protect you from online threats. It's also a good idea to research the privacy policies of different ISPs and choose one that aligns with your values and beliefs when it comes to data privacy.
By following these five steps, you can protect your online privacy and keep your personal information safe. Remember that online privacy is an ongoing process, so it's important to stay vigilant and update your security measures as needed.