Classic Tech IPTV update version 1.1.3 all you need to know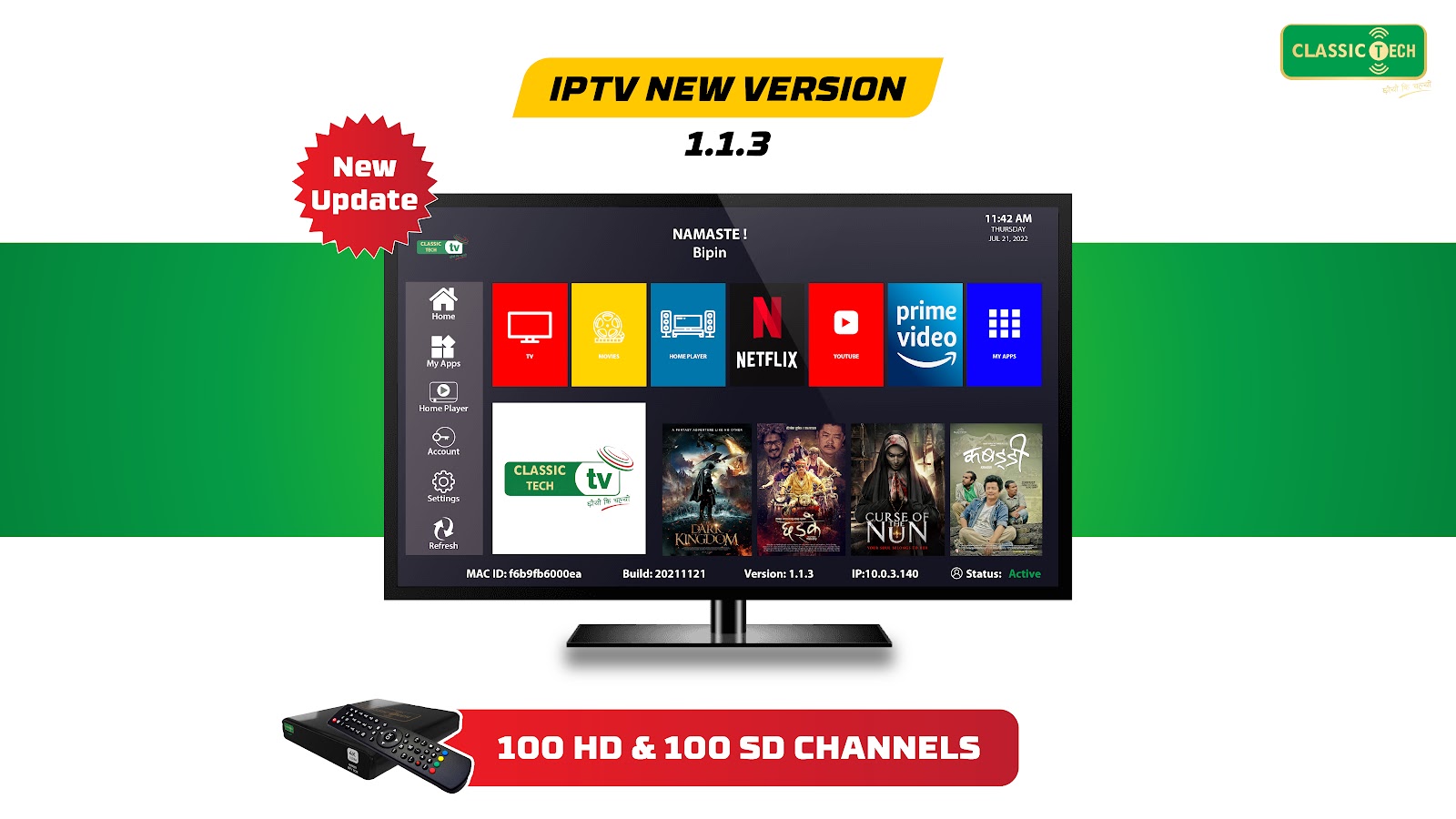 Nepal's leading Internet Service Provider company Classic Tech have been providing best internet services at the best possible rates available in the market. Established with the motto of providing internet facility to every possible location have been working restlessly on it.With the immense growth of platforms like Netflix, Amazon prime and various other media houses that provide the content based on the interest and requirements of the viewer.  The use and need of IPTV in place of separate cable TV have given a push to companies that are providing internet and television bundle package to modify or bring a certain change to the model of services they are providing.
Paying for internet to a certain company and to pay for TV to a different media have become a level of troublesome for  people  as it is time consuming  and also cost is high. Also people want the services to be provided by same company. as that would assist them in minimizing the complexity of memorizing or need to visit two different location for the same thing. Companies are a facing some kind or virtual push or need to upgrade their service and modality.
Feeling the need and catering such situation classic tech has been providing both internet and IPTV facilities to its customer since long ago. With various internet packages, the facility of IPTV has also been included depending on the need and budget of the customer. Classic Tech's IPTV even works on CRT television unlike others that make it available for all the customers.
Classic Tech has upgraded its IPTV to a new and better version 1.1.3. With the updated version the issues like buffering and glitches while watching the TV programs have been addressed. Various channels have been added that adds multiple options of programs and choices of entertainment.
In the home section, you can see the option of Live TV, YouTube, Netflix, Prime video, Movies on demand. From this part you can select the program or part you want to watch and enjoy.
The new version is very fast and buffer free as Classic Tech hosts its own CDN (Content Delivery Network) of Netflix, TikTok, YouTube and so on.  This helps to watch your program without any issues and disturbance.  While using YouTube from Classic Tech IPTV no additional data is consumed in the internet package.
Classic Tech has taken care of all possible viewers with every age bracket. From children to elder citizens, Classic Tech has tried to include every possible viewer. If you select live TV from the home section you will be directed to the home channel where you can view channel list. The channel list is sorted in such a way that you don't have to struggle to find the program you want to watch.
Classic Tech's IPTV has more than 60 HD and more than 115 SD channels available. Channels have been sorted like, news, sports, entertainment, movies, music, wildlife, Cartoons, and religious.
In sports section, channels like Star sports, Sony ten channels, and various other channels are available where you can enjoy viewing your favorite sports and with both cricket and football world cups near we are sure, you would not like to miss them. You can view those matches on available channels in our sports section.
In movies section, You can view movies on channels like star gold, &pictures, Set Max and many others, you can watch movies on our Movies on Demand section, where you can view any movies you want to.
In entertainment section, the channels that show daily soap like star plus, colors, Zee TV, Sony etc can be viewed and you can enjoy your programs.
For children there are various cartoon channels available as well. With channels like Nick junior, Sonic, and Disney Junior, you can have free time while your children are busy watching them.
 For the elderly or any viewers who enjoy watching religious channels, we have such channels available as well to enlighten spirituality. Sanskar, God TV, and Peace of mind channels are available to keep your mind connected to almighty.
You can enjoy music and get relaxed in channels like 9xm, mtv, B4U music and a lot more.
To keep updated with daily international and national happening and information you can view channels like, NTV, NTV plus, Ap1 HD, Mountain HD, Yoho TV, Himalaya TV and many others can keep you updated.
So, if you are looking for an ISP that gives you the best internet and IPTV facility at affordable prices, you can choose Classic Tech without any issues or doubts. It has been in service for more than 14 years, so the reliability and trust the company has earned from its customers make it the first choice of every customer.
▲