About Us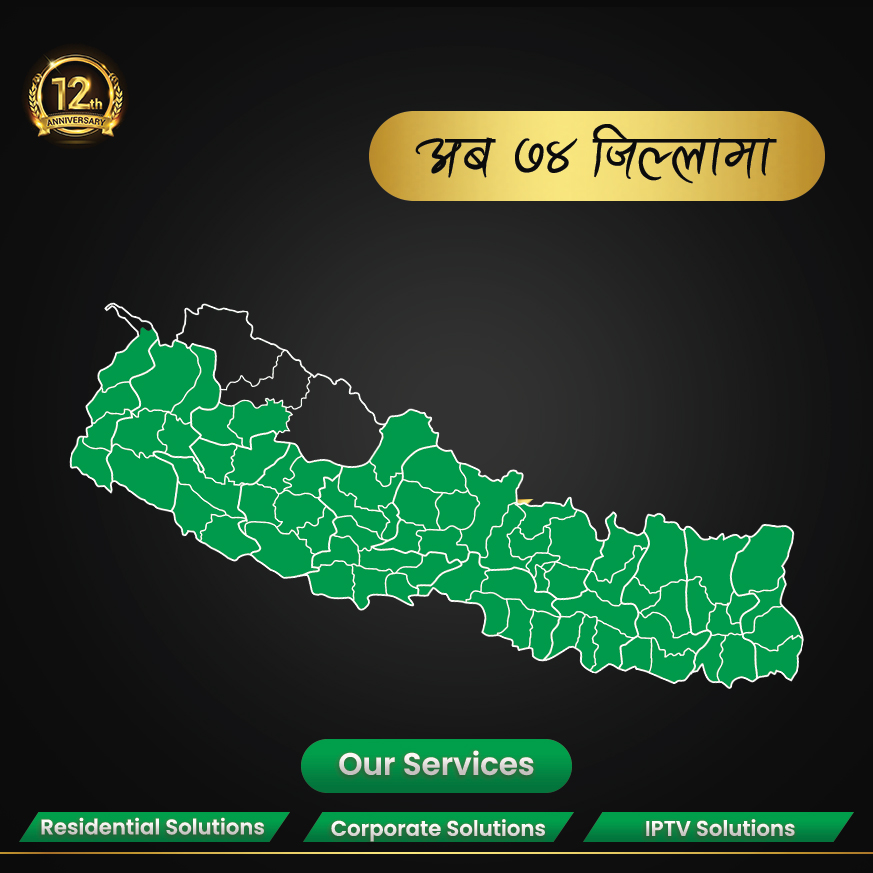 Classic Tech is Nepal's leading and largest network service provider. It has been operating its services in Nepal since 2009 and in just 12 years Classic Tech has brought the service into operation from 103 outlets in 74 districts.
With the growing number of internet users in the nation, Classic Tech has been providing the highest speed internet at the lowest prices.
Classic Tech has been providing internet access to the rural areas of the nation. We initiated the introduction of GPON Technology in Nepal to provide dedicated speeds internet service to individual houses with Fiber Optics Internet as FTTH Internet Service. Over the years, Classic Tech has added the highest speed broadband internet, IPTV Service, and the latest technology products. This milestone has been achieved through a focused and dedicated approach to providing an efficient and unmatched level of customer support. We are entirely focused on effective customer support and service mechanism.
Since customer satisfaction is our first priority we have put into effect to be a better service provider using the latest technology under the supervision of its excellently experienced engineers serving our large number of customers. We are constantly developing our team to generate innovative packages and provide new and affordable products and services to our valuable customers creating even more compelling arguments for our existence.
With our inclination towards the motto of "Chhoyo Ki Chalyo", we aim to provide the fastest and most reliable services that are carefully analyzed while meeting the actual demand of the customers. Our approach has been to have the best people, the best equipment, and follow global standards to establish our company on a global market to understand the customer's needs and provide the best solutions and service as per client's requirement.
Why Choose Us?
State-of-Art Network Infrastructure.
High-Speed Internet Services.
User-Friendly Plans.
365 days of Customer Support.
Large Network Coverage.
9001:2015 ISO Certified.
One-Stop Solution.
Mission
At Classic Tech our mission is to innovate and to provide quality network services that realize the demand of various users. We pledge to develop most reliable and affordable services in the hands of our customers, hence empowering the nation.
Vision
Our Vision is to provide quality internet and network service with higher speed and greater reliability. Responsive customer support with value added service that provides complete satisfaction to our customer is our thirst and also the endeavor of Classic Tech.
Goal
Our goal is to help our customers to keep in touch, do business and to flourish regardless of distance by using the latest and upgraded technology. We aim to be a leading Internet Service Provider and Network Service Provider throughout the nation.
Objectives
The network connectivity and the internet is certainly one of the major phenomenon in Nepal today, in fact it is being universally recognized that as the Internet proliferates, so will E-Commerce E-Governance , E-Business and other E-services therefore it is our national interest to boost the expansion of internet services in the country. Classic Tech continues to progress and proactively analyze to understand the issues and concerns of internet industry and address them through sharing of information from various platforms available.
Some of the objectives we have targeted are:
Internet availability and reach-ability in rural areas
Generate employment opportunities (directly/indirectly).
Promote the project and develop the interests of ISP/NSP.
Collaborate and associate with related National and International Organizations for an update on technologies and latest practices.
Classic Tech owns, builds, installs, provisions, monitors, manages and takes full responsibility of the network till the Customer Premise Equipment (CPE) (Demarcation Switch) at your site. With this Classic Tech NOC (Network Operations Center) personnel gains complete visibility to the service during the testing and service provisioning phases. Below are some of our keys to success.
Customer Service Excellence: We feel a sense of urgency on matters related to our customers. Classic Tech anticipates needs, respond quickly and deliver customer-focused solutions. We have a passion for excellence and are committed to winning with integrity. We aspire to flawless execution without shortcuts on quality.
Transparent Communication: We have an unwavering commitment to open, honest and timely communication. Clarity is our goal to understanding and what we expect from each other is critical to make the best decisions and providing superior service.
Innovation & Efficiency: The best way to have one great idea is to start with a lot of ideas so we make a habit of asking, "Is there a better way?" Good business people challenge conventional thinking and offer new ideas.
Customers Satisfaction: We respect our customers above all and never forget that they come to us by choice. We share a personal responsibility to maintain our customers' loyalty and trust. We listen and respond to our customers and seek to exceed their expectation.
Teamwork: We believe that teamwork is the key to success. We treat one another with respect and communicate openly. We foster collaboration and maintain individual accountability.
Community: We exert to make an impact on our society and empower our customers. We are committed to serve our country through services to the community.
Quality Policy: We are committed to deliver quality products and services at a reasonable price and continually improve our quality to enhance customer satisfaction. Classic Tech is headed by a team of highly qualified professionals having years of experience in various aspects of information technology and networking.
Classic Tech operates a scalable and secured network that employs Virtual Private LAN Service (VPLS) over a Multi-protocol Label Switching (MPLS) platform.Classic Tech has deployed metro fiber route mile infrastructure over which it offers Ethernet services at speeds up to 1 Gbps.
MPLS/VPLS
Classic Tech has MPLS as its core backbone for the Internet and intranet connectivity. MPLS is the fastest switching technology, which is typically run by ISP/NSPs for the faster packet switching process. MPLS enables Network Service Providers to offer various kinds of services to the enterprises. There can be multiple options for MPLS circuit that an enterprise can own for the intranet connectivity. Classic Tech has been expanding its redundant and reliable services throughout the country with the most popular vendor platforms like Cisco, Juniper and MikroTik for the uninterrupted services to the enterprises. The protocols used inside the cloud has capability of handling thousands of customer routes and the customers can run any addressing hierarchy as per the necessity regardless of what other customers are using as their Layer three circuit addressing.
Likewise, Classic Tech has adopted MPLS architecture due to its ability to provide multiple kinds of cost effective services that can be offered to the customers who are willing to expand their branches all over the country with redundancy and reliability.
MPLS L3VPN
MPLS Layer 3 VPNs use a peer-to-peer model that uses Border Gateway Protocol (BGP) to distribute VPN-related information. This highly scalable, peer-to-peer model allows enterprise subscribers to outsource routing information to service providers, resulting in significant cost savings and a reduction in operational complexity for enterprises. Service providers can then offer value-added services like Quality of Service (QoS) and Traffic Engineering, allowing network convergence that encompasses voice, video, and data. IP-based VPNs use the next-generation Virtual Routing/Forwarding instance (VRF)-Lite, called Easy Virtual Network (EVN). This simplifies Layer 3 network virtualization and allows customers to easily provide traffic separation and path isolation on a shared network infrastructure, removing the need to deploy MPLS in the enterprise network. EVN is fully integrated with traditional MPLS-VPN or MPLS VPNomGRE.
L2VPN/VPLS
Layer 2 VPN (L2VPN) emulates the behavior of a LAN across an IP or MPLS-enabled IP network allowing Ethernet devices to communicate with each other as they would when connected to a common LAN segment. As Internet service providers (ISPs) look to replace their Asynchronous Transfer Mode (ATM) infrastructures with an IP infrastructure, there is a need for to provide standard methods of using an IP infrastructure to provide a serviceable L2 interface to customers; specifically, to provide standard ways of using an IP infrastructure to provide virtual circuits between pairs of customer sites.
Building a L2VPN system requires coordination between the ISP and the customer. The ISP provides L2 connectivity; the customer builds a network using data link resources obtained from the ISP. In an L2VPN service, the ISP does not require information about a customer's network topology, policies, routing information,point-to-point links, or network point-to-point links from other ISPs.
The ISP requires provider edge (PE) routers with the following capabilities:
Encapsulation of L2 protocol data units (PDU) into Layer 3 (L3) packets.
Interconnection of any-to-any L2 transports.
Emulation of L2 quality-of-service (QoS) over a packet switch network.
Ease of configuration of the L2 service.
Support for different types of tunneling mechanisms (MPLS, L2TPv3, IPSec, GRE, and others).
L2VPN process databases include all information related to circuits and their connections.
Classic Tech services exhibit all of the following features:
Security
Scalability
Flexibility
High Availability
Cost-Effective
Fully-Managed
Guaranteed Service
Reliable
Experience Dedicated High End Support