How to choose Smart TV?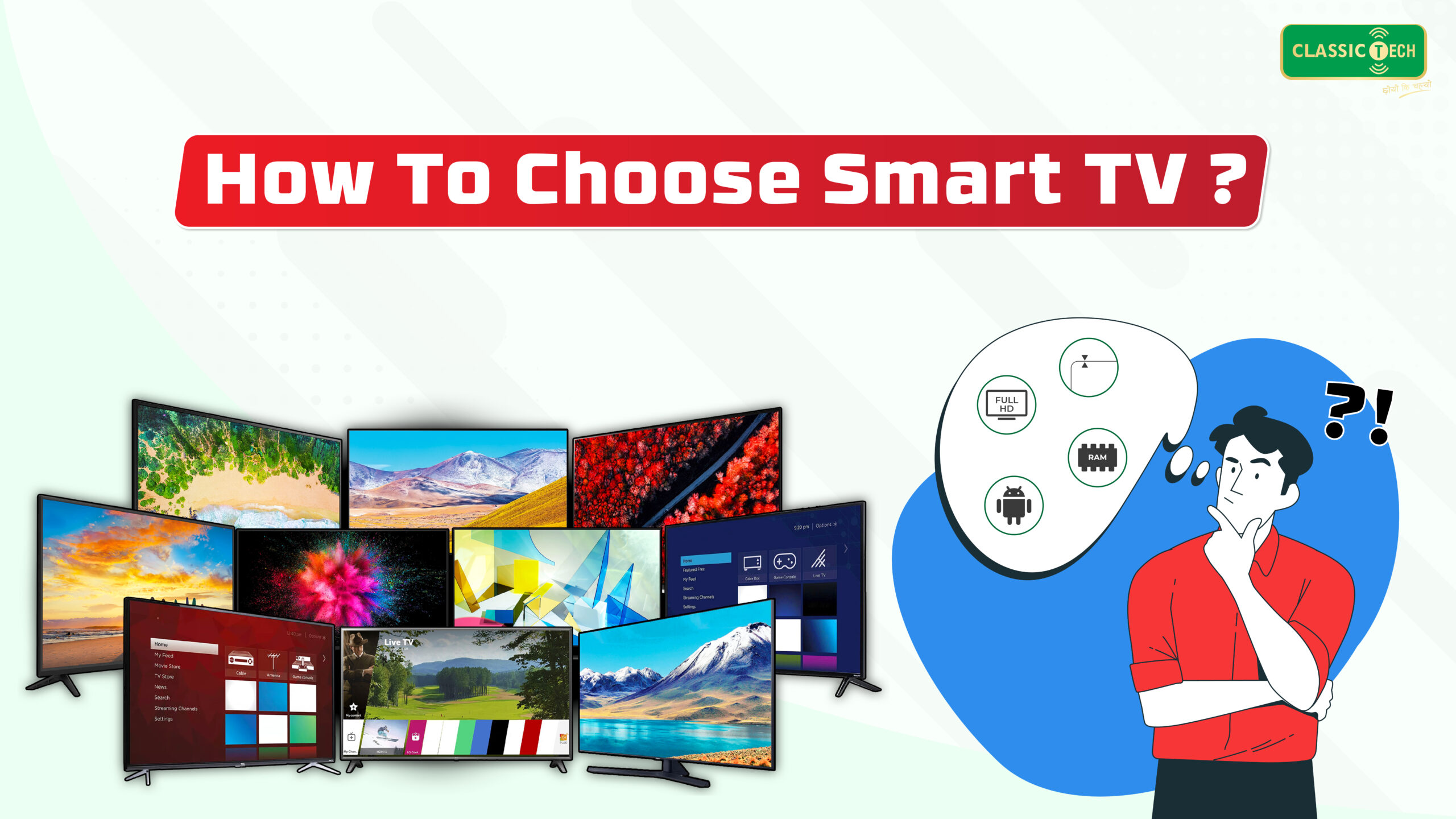 Smart TV is a television that has extra features like being able to connect to the internet and having apps built in. An LED TV is a type of smart TV that uses light-emitting diodes for its backlight instead of the traditional fluorescent tubes. The world of TVs is upgrading every day and is getting a little confusing too. There are numerous types of TV available in the market like Videocon TV, Yasuda TV, Samsung TV, MI TV, Himstar TV, CG TV, Konka TV, Infinix TV, Panasonic TV, LG TV, TCL TV, Hisense TV, and lots of others. If you're having trouble choosing between all the different types of TVs in stores, here are some things to consider that will help you make a more informed decision.
Screen Size of TV
Whether you're looking to buy a regular TV or a high-end TV, the most important factor to consider when buying a TV will probably be the screen size. You should consider the number of people in your family who watch the television at one given time when deciding where to place it in the house. You should pick a screen size that will fit comfortably into the space you have and also your budget. There are different sizes of TVs found in the market minimum 16" inch to more than 100" inch.
Check for Android Version
A smart can connect to the Internet to get content and services directly, without needing an external device like a set-top box, USB drive, streaming dongle, or Blu-Ray player. Smart TV must have at least android version 9 for downloading your favorite apps, games, and multimedia your smart Tv should have the latest version so that every app can be downloaded as well as perform well without any errors or problems.
Important Ports
Smart TVs must have some advanced ports like HDMI, USB, Ethernet, etc. The HDMI port is a highly versatile port that can be used to connect all kinds of devices, including gaming consoles, laptops, speakers, and so much more. The USB port can be used for more than just charging devices; you can also connect to a laptop, hard drive, or even your phone. With the Ethernet port, there will be zero interference in the internet connection. Users will have no buffering while watching content online.
Speakers
Sound plays a vital role in enhancing the video experience. If you want your Smart TV to have good audio quality, remember that the higher the wattage, the louder the sound output. It is very important to have a Smart TV that produces enough sound to travel greater distances, especially if you have a large house. There are lots of smart TVs in the market having different wattages.
Resolution
When buying a television (TV), it is important to understand that resolution describes the number of pixels (the blue squares) required to make up the picture on the display screen. The benefit of Full HD TV is that small objects on the screen have more detail, including sharper text. The pictures on this FHD TV look more real and vibrant than those on an HDTV.
Price
The pricing of smart TV seems to be very high if we look for the above features. For 43" inch TV
usually cost you 45k-70k. Videocon and Classic tech introduced a new FestiBall offer for the Customers. Considering the affordably, every individual from Nepal can have a Videocon Smart TV at their home due to its cost. Videocon 43" smart TV costs you only Rs. 25,663 /- (exclusive of Tax).
Things Necessary for Smart TV
Although you have got your smart TV without internet and IPTV, there will be no content to watch. Classic Tech offers you the best triple combo offer "Internet+ IPTV+ Smart TV". In this FestiBall offer, customers will have three plans to choose 50Mbps, 80Mbps, and 100Mbps in the offer and user can also choose 225 Mbps,275 Mbps, 325 Mbps, 375 Mbps and 625 Mbps package. Classic Tech IPTV comes with 200+ live TV channels including national and international channels as well. OTT Pre-installed apps are available too like Netflix, Amazon prime, Hotstar, etc.
For detailed info about Videocon TVs, you can read our recent Blog "Classic Tech | Videocon Internet & Smart TV Combo".
Pre-Booking is Available. Book your 43" Smart TV Now. Customers can visit the nearest Classic Tech Branch, Direct message Classic Tech on Facebook/Instagram page, or directly call at 980104477. Existing Classic Tech users can pre-book Smart TV from the "Classic Tech app".
▲