5GHz Wifi Router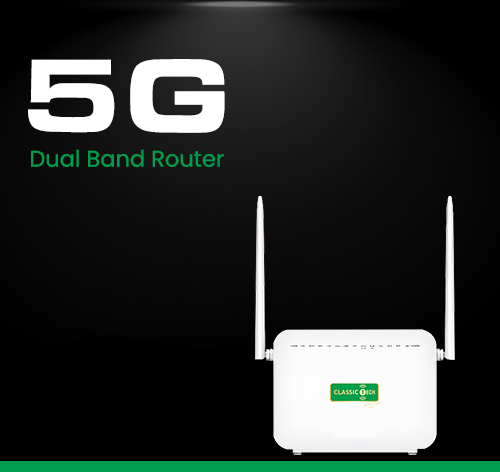 Why Dual Band ONU?
The performance of a router has a great influence on our Wi-Fi online experience, so choosing the correct router is very important. Here we get a question most of the time "Should I choose a dual-band router or single-band router?"
Okay let's talk about Dual Band 5GHz Router:
Initially, a Dual Band router uses two bands: 2.4GHz and 5GHz, which means that they transmit two simultaneous wireless signals, providing better performance, and compared to a single-band router, a dual-band router is easier to set up.
In Comparison: Single-band router uses the 2.4GHz band and is limited to one wireless signal.
Secondly, a Dual Band router supports both bands (2.4GHz and 5GHz) and provides faster speed and flexibility. Therefore, the dual-band router avoids connection issues or interferences and offers more stability. The dual-band can also reach a signal up to 100x the wireless bandwidth,
Finally. A Dual Band router has a longer range and better signal strength, and despite the broadcasting on two different bands, it is capable of switching automatically when needed. Due to its strong signal, the dual-band router is suitable for online high-resolution gaming, video streaming, and high-resolution audio.
| Item | Charge |
| --- | --- |
| Dual-Band 5Ghz ONU | Rs. 3,000/- |
TERMS & CONDITIONS:
Each of the aforementioned prices is subjected to 13% VAT.
3 months warranty is provided on manufacturing defects only.
The device will be in the ownership of Classic Tech Pvt. Ltd. In case of an upgrade from the existing ONU, the deposit of the previous ONU will be transferred to the new Dual Band ONU installed automatically.