How to Order Classic Tech Internet?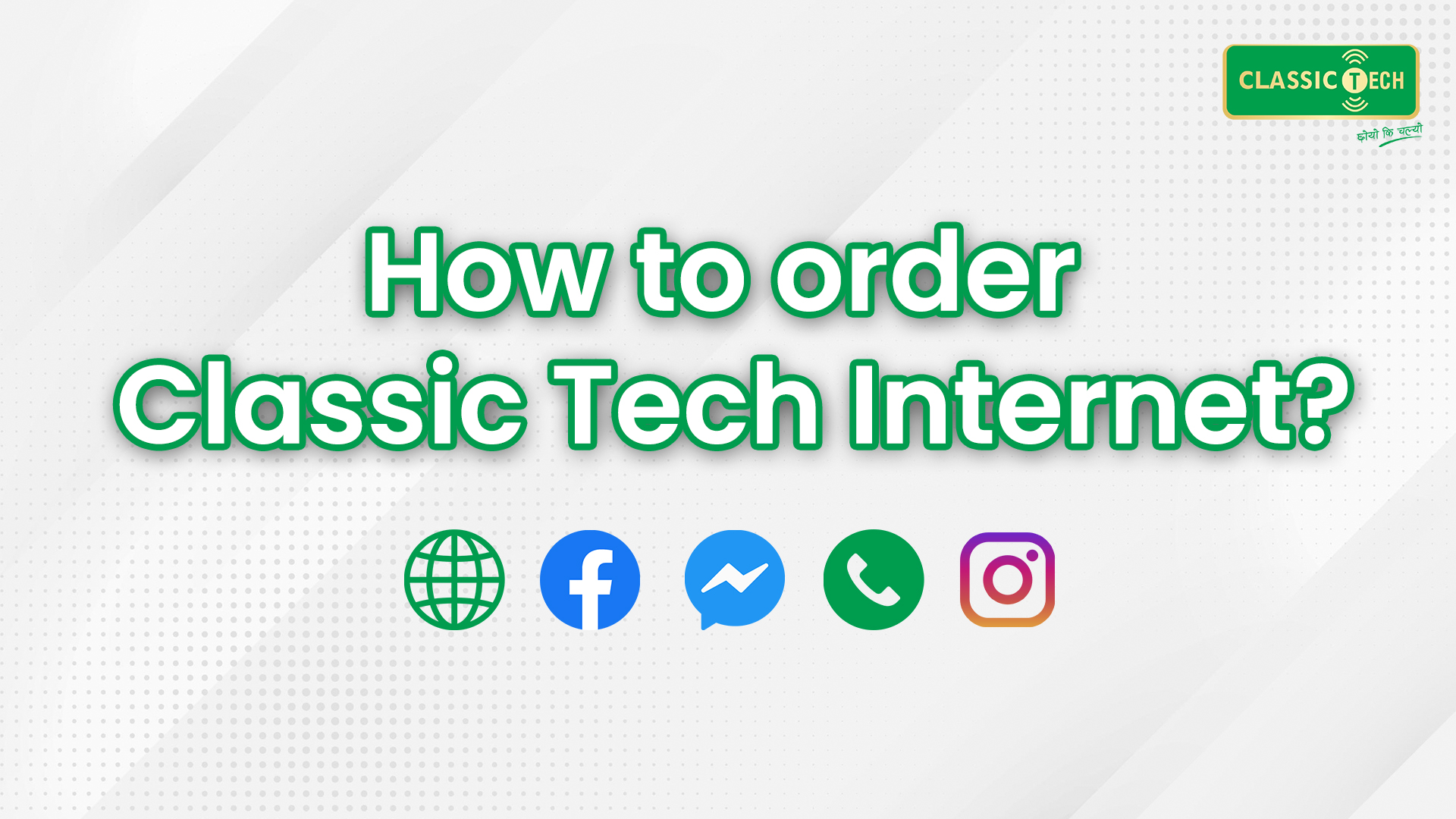 How to Order Classic Tech Internet?
Classic Tech is one of the best Internet Service Providers (ISPs) in Nepal for providing fiber optic Internet. We provide our services in 74 different districts of Nepal. The reason behind establishing Classic Tech is to provide affordable and high-speed internet to every corner of Nepal.
How to Contact Us for New Installation?
Classic Tech is active on almost all social media, most of which are used by ordinary people and professionals. We are active on the following platforms:
1. Viber Community: https://bit.ly/3bV2Bdw
2. Facebook: https://www.facebook.com/ClassicTech
3. Instagram: https://www.instagram.com/classictech.nepal
4. Twitter: https://twitter.com/ClassicTechNP?s=20&t=YrPt_QWtcsEMBUgwdnAsXw
5. YouTube: https://www.youtube.com/c/ClassicTechNP
6. LinkedIn: https://www.linkedin.com/in/classic-tech-909659124/
7. TikTok: https://www.tiktok.com/@classictech.nepal
8. Pinterest: https://pin.it/7lqT7Ea
9. Website: https://www.classic.com.np/
The users who are looking for a new installation can contact us via Facebook, Instagram, phone call, and the website. Things you have to mention before messaging for new installation. Here's a look at the demo message below:
User:01
I want a new installation.
My location is New-Baneshwor, Kathmandu. (GPS)
My contact Number is: 98********, (optional) 98**********.
Thank You
After, that our team will respond to your message. You will receive a call from our sales and marketing team to confirm your order. All your questions will be answered by our sales and marketing representative.
Or
Another option for contacting us is to call us. You can contact our sales and marketing department directly at 9801004477.
Once your order is confirmed, our fiber sales associate will come to your home to set up the internet. You will receive a contract, so read it carefully and complete it. After installation is done, you will receive a unique user ID, username and password for the Classic Tech app.
Classic Tech Application
The Classic Tech app can be found in both the google play Store and the App Store. Both Android and Apple users can download it easily.
Link: http://onelink.to/v4u3t9
The app will ask for your username and password to log in. Just type in the username and password provided by our fiber associate. Afterward, the app will offer the following features for customers:
Language Change
1. You can change the language Nepali or English.
Router/Wi-Fi Settings
1. Changing Wi-Fi Password
2. Device Filtering
3. Reboot Router
4. Device Status
5. LAN Setting
6. Shows Connected Devices
Customer Care
1. Technical Support
2. Account and Billing Issue
3. Sales and Marketing
4. General Queries
Payments
1. Renew Package
2. IPTV Subscription
3. Package Upgrade
4. 5Ghz Router Booking
Refer Form
1. Refer Your friend and Get 4 Month's Bonus (2 Months Internet+ 2 Months TV)
Speed Test
1. Shows Accurate speed test results without a third-party app.
Payment History Details
1. View your all payments history of all time.
Renewal Sapati
1. Get up to 7 days of renewable sapati (T&C applied)
Profile Info
1. You can change your Name, Registered number, and Email.
Hold on a second!! This is not the end. Did you know? Classic Tech has its own IPTV which you will get free of cost with any package for a 1-year subscription. Customers of Classic Tech can now enjoy up to 200+ live TV channels. (100+ HD and 100+ SD). In addition, IPTV enables you to use Android TV features such as YouTube, Netflix, and Amazon Prime, which are not possible with conventional television. In response to the needs of our customers, we have come up with a variety of packages that range from 225 Mbps to 1 Gbps.
▲