Job Openings for Freshers: Indoor Sales Representative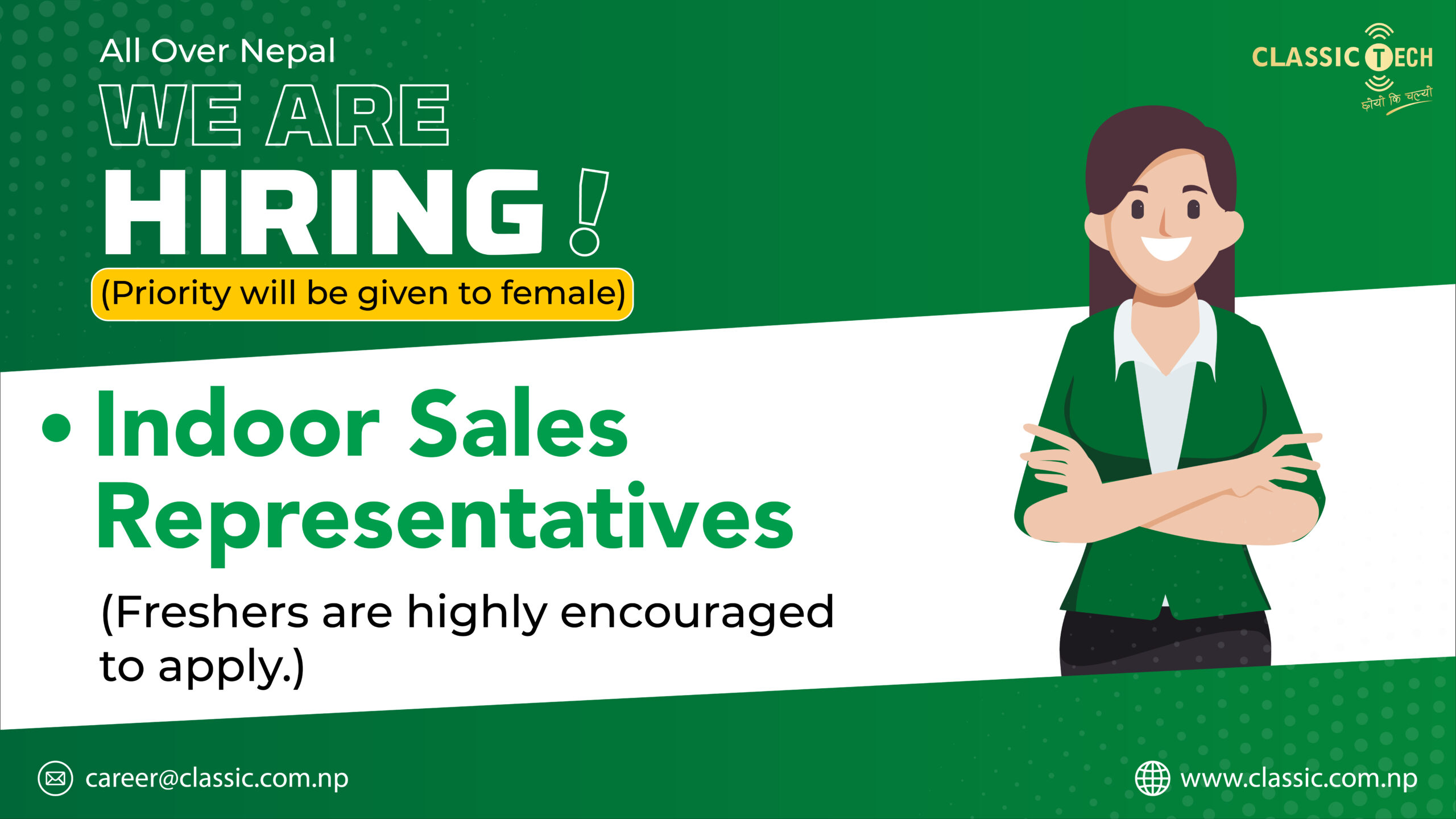 Classic Tech is a leading internet and IPTV service provider in Nepal. We encourage the candidates who are seeking the job, here we have got you the opportunity to work with us. Candidates who are interested in being independent and enhancing their skills and who have the potential to become an asset to the company are welcome to join our company with its strong work culture.
Why choose Classic Tech?
Attractive salary.
Festival expense allowance.
Attractive Incentive packages and Perks.
Working in a team environment where initiative and dedication are encouraged.
An equal-opportunity workplace that values diversity and does not discriminate.
Facilities of Social Security Fund (Pension, Gratuity, and Insurance facilities).
High level of responsibility with opportunities to learn and grow more.
Before Applying, please make sure to check the qualification must be required to apply for the post.
Job Specification
Education Level
:
+2 Pass, Bachelors Running
Experience Required
:
Freshers can Apply,
Highest Priority to Minimum 6 months of experience in Outbound Call Center or related sales position,
Both Males & Females can apply (Priority will be given to Females)
Professional Skill Required
:
Interpersonal Marketing Management Public Relations Verbal / Telephonic Communication
Other Specification
Good Nepali communications skills
Good persuasive skills
Good organizational skills and the ability to multitask
Strong listening and sales skills
Excellent phone and cold calling skills
Ability to achieve targets.
Good knowledge of technology and the Internet
Good Customer Service Skills
Job Description
Communicating with customers, making outbound calls to potential customers, and following up on leads.
Understanding customers' needs and identifying sales opportunities.
Meet Sales KPIs Target defined by the company
Collect Leads and Enter in the system appropriately
Promote Classic Tech in the specified area
Creating and maintaining a database of current and potential customers
Staying informed about competing services.
Actively Take part in any kind of Marketing initiated by the Branch authority
Coordinating with ASRs and Sampling/Monitoring leads effectively
Coordinate with Branch Authority and perform assign tasks
Reporting to CC Manager and Branch Authority on Daily/Weekly/ Monthly / Yearly Basis
Provide Basic Training to ASRs if required
Provide organic customer data and analytics of the specified area to improve transactions and sales
Note: Candidates should be flexible traveling in any kind of Marketing initiated by the concerned personnel of the Branch to different areas and also willing to work in an assigned location by the Company
Interested Candidate, please send your updated CV/ Resume with clearly specifying the Position & Location to career@classic.com.np.
▲