Unlock Your Sales Career with Classic Tech: ASI and ASR Positions Available!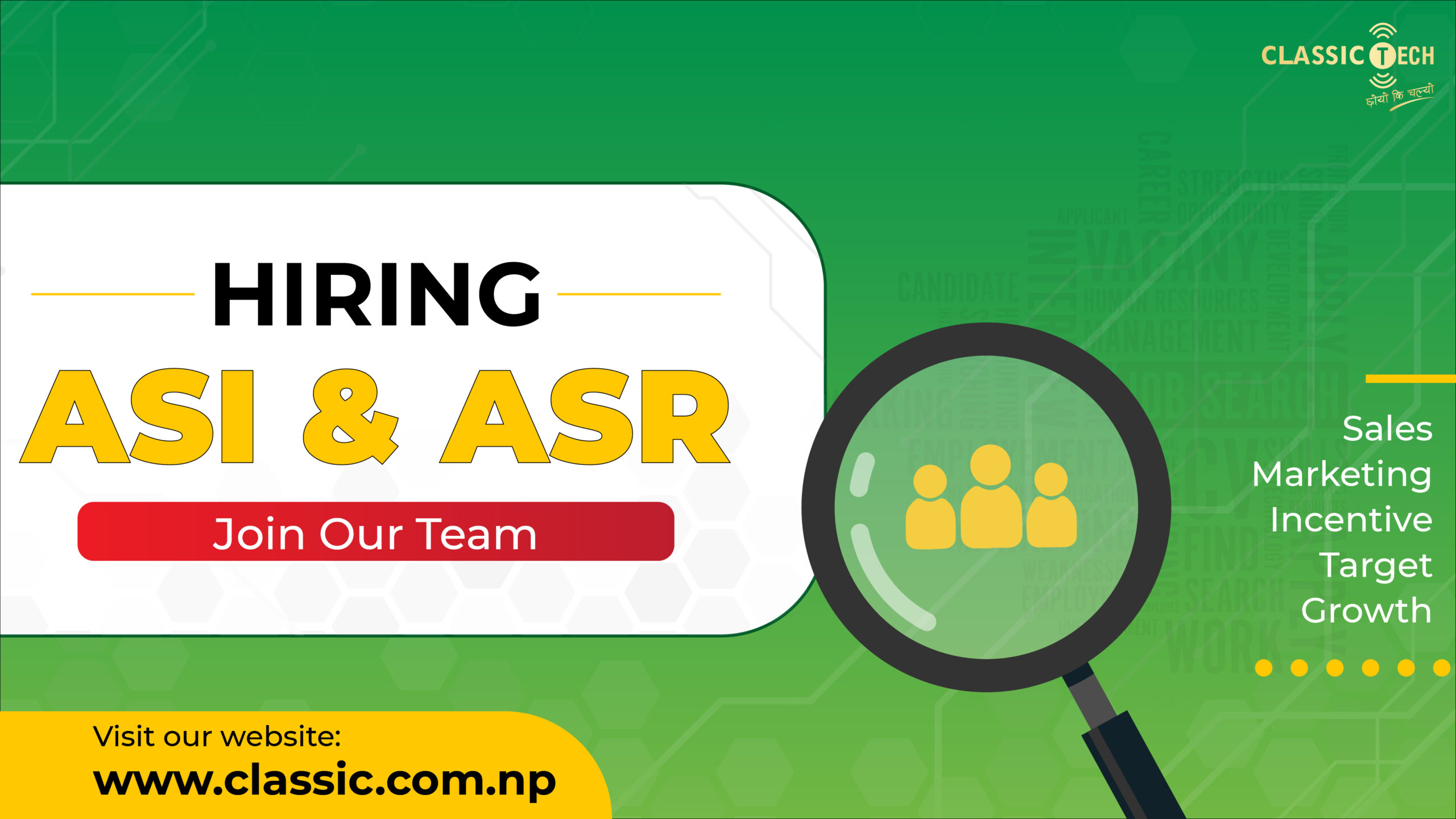 Are you ready to take your sales career to the next level? Classic Tech, a leading ISP in the country, is thrilled to announce exciting opportunities for dynamic individuals to join our sales team as Area Sales in charges (ASI) and Area Sales Representatives (ASR). Whether you're an experienced sales professional or an aspiring talent, we have the perfect role for you.
Why Choose Classic Tech?
At Classic Tech, we believe in nurturing talent and empowering our team to achieve remarkable success. Our commitment to innovation, coupled with a passion for growth, sets us apart in the market. As we continue to expand both within and beyond the Kathmandu Valley, we're looking for dedicated individuals to contribute to our journey.
Current Openings: ASI and ASR Positions
Area Sales in charge (ASI) – Crafting the Sales Landscape:
As an ASI, you'll play a pivotal role in shaping our sales programs and strategies. Your responsibilities will encompass:
1. Developing and executing sales programs tailored to maximize revenue from assigned accounts.
Conducting in-depth market research to identify new sales opportunities and devise effective sales initiatives.
Crafting and implementing innovative sales strategies while maintaining a deep understanding of our product offerings.
2. Collaborating with cross-functional teams to drive results and create a seamless customer experience.
Requirements for ASI:
1. Bachelor's degree or higher, along with a proven track record of at least 3 years in sales.
2. Self-motivation and a relentless drive for success in the sales arena.
Area Sales Representative (ASR) – Pioneering Sales Frontiers:
If you're looking to kick start your sales career, the ASR role offers an incredible learning opportunity. Your day-to-day activities will encompass:
1. Maintaining meticulous records of sales activities and progress.
2. Engaging in daily sales-oriented tasks to foster customer relationships and achieve targets.
Crafting compelling sales applications and executing them effectively.
3. Conducting proactive visits to 25-30 potential customers daily, showcasing our diverse range of products and services.
4. Identifying potential sales opportunities through thorough assessment of customer telecommunication services.
Requirements for ASR:
1. Minimum of a +2 qualification.
2. A hunger for growth in the sales industry, driven by self-motivation and determination.
Benefits That Matter:
Classic Tech believes in recognizing the dedication of our team. We offer an attractive salary package, coupled with benefits such as a corporate SIM card and social security fund. We prioritize your growth and development, offering a clear path to career advancement and continuous learning.
Ready to Join the Classic Tech Family?
If you're passionate about sales and driven to excel, we encourage you to seize this opportunity. Whether you're an accomplished professional or a budding talent, your enthusiasm and dedication are what we value most.
To apply, send your CV to career@classic.com.np.. For more information or inquiries, feel free to give us a call at 9801004477.
At Classic Tech, we're not just offering jobs; we're offering a platform for your sales prowess to shine. Join us today and embark on a journey of growth, innovation, and unparalleled success!
▲