Empower Your Career at Classic Tech: Join as an Area Sales Incharge (ASI)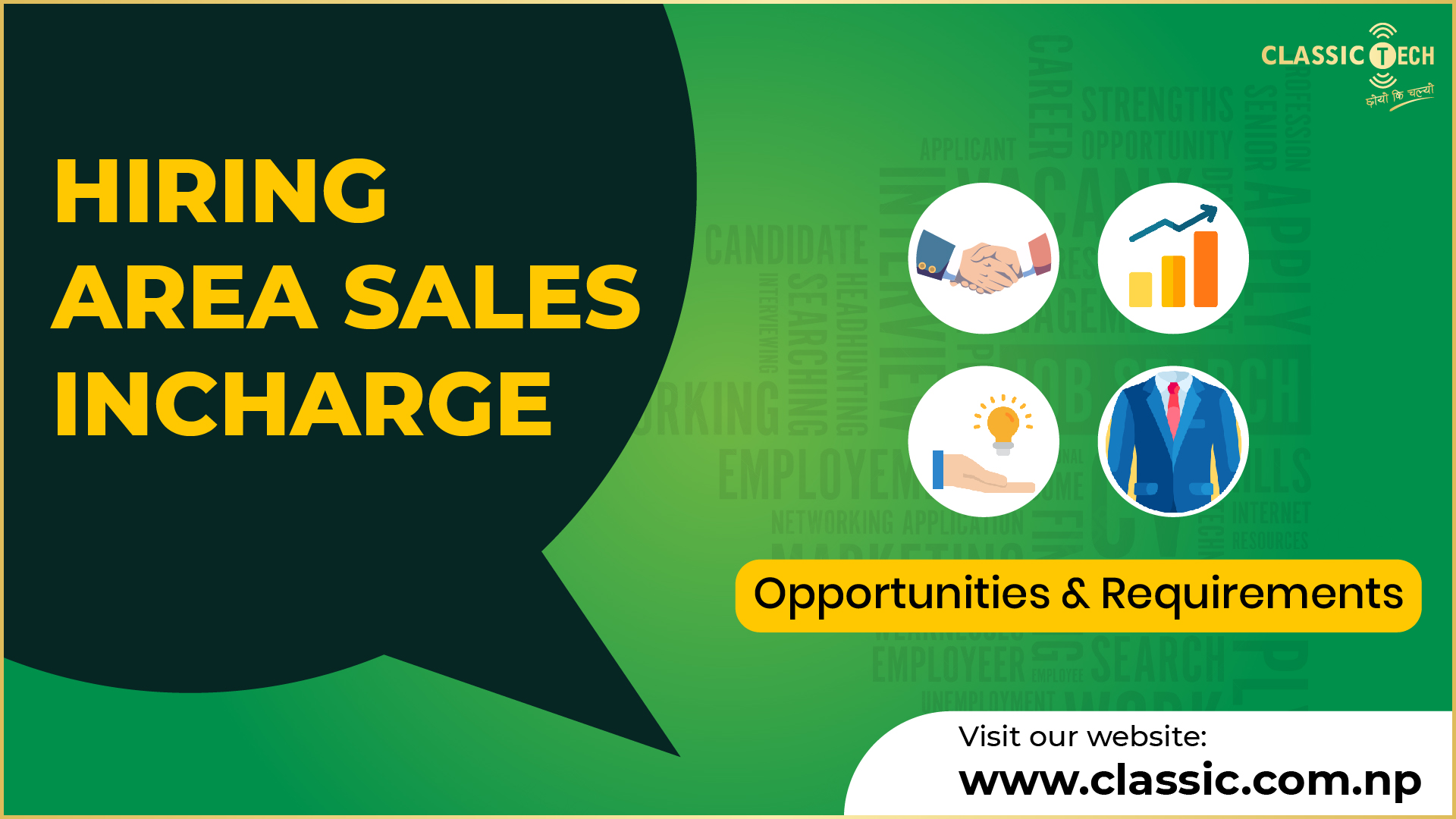 Are you a go-getter with a passion for sales and marketing, looking to make your mark in a dynamic and innovative company? If the answer is a resounding "yes," Classic Tech, Nepal's premier Internet Service Provider (ISP), is actively seeking talented individuals to join their team as Area Sales Incharge (ASI). With a national presence, this is an opportunity to propel your career to new heights and be part of a groundbreaking journey.
Classic Tech: Leading the Way in Nepal's Internet Landscape
Classic Tech needs no introduction in Nepal's rapidly evolving internet landscape. As a market leader in the ISP industry, Classic Tech has been connecting people from all walks of life across the country for years. Driven by a vision to revolutionize communication and internet services, we strive to make these services accessible to every Nepali household. Our commitment to excellence and unwavering focus on customer satisfaction has earned us a stellar reputation in the market.
The Quest for an Area Sales Incharge (ASI)
To realize our ambitious goals and consistently deliver exceptional services, we are on the lookout for highly qualified candidates to take on the crucial role of Area Sales Incharge (ASI). This position is instrumental in driving sales and spearheading expansion efforts in key locations like Butwal, Bhairahawa, Dhalkebar, Kalaiya, Simrangadh, Biratnagar, Itahari, Dharan, and Lalitpur Chapagaun. If you reside in or around these areas and possess a fervor for sales, this opportunity is tailor-made for you!
Requirements for the Role
At Classic Tech, we place a premium on competence and dedication. To be considered for the ASI position, you should meet the following prerequisites:
1. Educational Background: A minimum of a Bachelor's degree is required. We firmly believe that education lays the groundwork for personal and professional growth.
2. Sales and Marketing Experience: The ideal candidate should boast a proven track record of 3-4 years in sales and marketing or a closely related field. Your experience will be instrumental in driving sales and expanding our esteemed customer base.
3. Willingness to Learn: In the ever-evolving tech industry, we treasure individuals who embrace continuous learning and stay abreast of the latest trends. As an ASI, you will have the opportunity to enhance your skills and knowledge continually.
4. Creativity and Sales Ideas: At Classic Tech, we welcome fresh perspectives and innovative ideas. Your creative prowess will play a pivotal role in crafting effective and compelling sales strategies.
5. Motivation and Determination: As a go-getter with a results-oriented attitude, you'll be a perfect fit for the role of ASI. Your determination will be instrumental in achieving sales targets and driving business growth.
The Classic Tech Advantage
Joining the Classic Tech team opens doors to a myriad of exciting opportunities:
1. Career Growth: Classic Tech is dedicated to nurturing talent and providing ample opportunities for career advancement within the company. Your success as an ASI can pave the way to prestigious positions like Area Sales Manager and Sales Manager.
2. Competitive Salary and Benefits: We believe in recognizing and rewarding our employees for their exceptional contributions. A competitive salary and comprehensive benefits package await you.
3. Thriving Work Environment: Classic Tech fosters a dynamic and inclusive work culture where employees are encouraged to thrive, collaborate, and contribute to the company's growth.
4. Shaping the Future: As part of Nepal's leading ISP, you will actively contribute to the transformation of communication and internet accessibility in the country.
Apply Now at career@classic.com.np.
If you meet the above requirements and are eager to explore new horizons in the internet industry, we want to hear from you! Submit your updated resume along with a well-crafted cover letter detailing your relevant experience, sales ideas, and the motivation driving you to join Classic Tech. You can apply by sending an email to career@classic.com.np.
At Classic Tech, we firmly believe that our employees are the driving force behind our success. If you are ready to unlock your potential and embark on a rewarding journey with Nepal's premier ISP, seize this opportunity to become our next Area Sales Incharge (ASI). We are eagerly waiting to welcome you aboard and witness your extraordinary growth with us!
▲